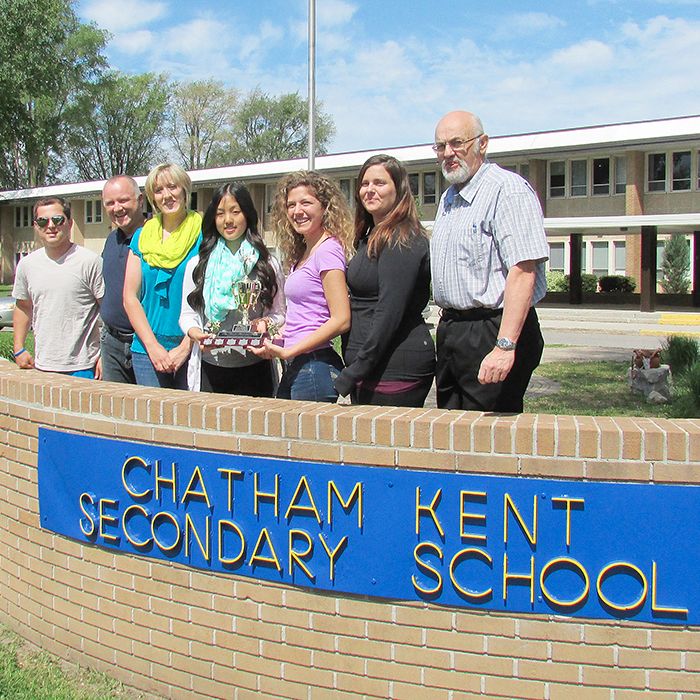 Chatham-Kent Secondary School raised nearly $2,800 this year for Heart & Stroke's Big Bike fundraiser, running away with the top fundraising award between five area high schools. From left, Nick Jacobs, Heart & Stroke program co-ordinator; Mike McDonald, CKSS vice-principal; Kristen Crow, CKSS teacher; Rachel Heo and Keren Zingman, CKSS students; and Samantha and Terry Meredith. The Meredith family donated the trophy in honour of a loved one.
Our youth led by example on Heart & Stroke's Big Bike, with Chatham-Kent Secondary School earning the yellow jersey.
Well, that jersey is handed out to the Tour de France leaders. CKSS students and staff earned a trophy instead for top fundraising school.
Nick Jacobs, program co-ordinator for the Chatham-Kent branch of the Heart & Stroke Foundation, said the five schools raised more than $6,500 through their Big Bike efforts. Of that total, CKSS accounted for $2,775, as students and teachers put in teams.
Chatham Mazda from Chatham Voice on Vimeo.
Overall, Jacobs said funds raised from the Big Bike this year topped $90,000 across Chatham-Kent. That's down significantly from the $127,000 raised last year.
"The teams were there, the riders were there, the dollars were not," he said.
Ninety-two teams, totalling 1,300 riders, took part this year over a span of 10 days in May.
Jacobs said the secondary school element of the fundraiser is in just its second year, but its future is very bright.
We saw a big increase this year over last," he said.
Comments
comments