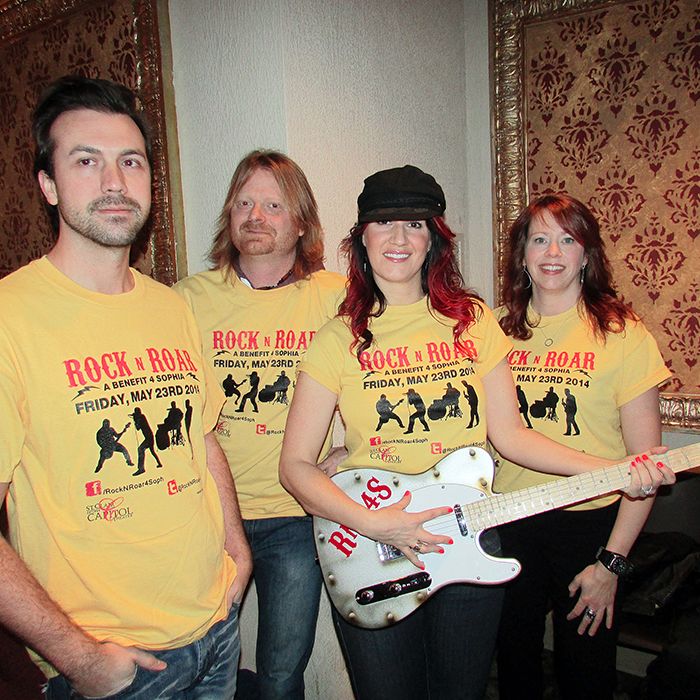 From left, Dave Richie, Mat Drew, Melaina Craievich and Deb Owen show off a custom painted guitar that will be auctioned off at the Rock N Roar for Sophia benefit concert May 23.
An upcoming fundraiser seems to have been bitten by the historic Chatham-Kent last-minute club bug.
Deb Owen, one of the organizers for Rock N Roar for Sophia, scheduled for May 23, said ticket sales have been slower than anticipated.
LEADWAVE Technologies from Chatham Voice on Vimeo.
The event takes place at the St. Clair College Capitol Theatre the Friday night of Retrofest and features local bands Walkin' 47, Face4Radio, Superfly, and Brooklyn Roebuck.
"Apparently, Chatham-Kent is infamous for leaving everything to the last minute," Owen said.
The event is a benefit concert for Chatham teenager Sophia Vlasman, who is battling cancer of the sinuses. Owen said Rock N Roar hopes to raise in excess of $10,000, which would be enough to get Sophia's name on a room at Ronald McDonald House in London, where her family has spent a great deal of time while Sophia underwent treatment.
There are many reasons to attend Rock N Roar, as aside from the plethora of local music, there is a silent auction, with numerous items donated from local businesses. But the crown jewel up for auction is the custom-painted Rock N Roar guitar. Darryl Boismier of Evolution Custom Paint in Chatham painted the Telecaster guitar, while the staff at Musical Strings N Things handled the tuning.
Owen said the entire evening has a local flavour.
"It's all local stuff. All the (auction) items are local. All the music is local," she said.
Tickets to Rock N Roar are $25 cash and are available at Boston Pizza, Enchantment Bridal, Bud Gowan Formal Wear, and the Capitol Theatre during business hours. Owen is also selling tickets and is willing to deliver them.
To reach Owen, you can call her at 519-352-6393, or message her on the Rock N Roar for Sophia Facebook page or Twitter account.
Anyone who purchases tickets in advance, will be entered into a draw for several door prizes, Owen said, including swag bags and clothing.