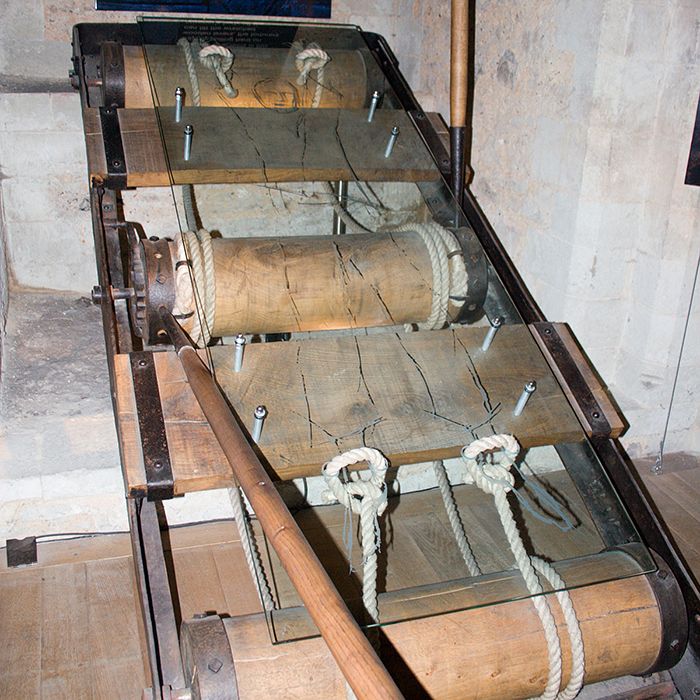 Does anyone have a spare torture device lying around the basement or castle dungeon? I'm specifically looking for "the rack."
Ever since my mid-20s, I have had back problems. The first time it really gave me grief was when I was in a snowball fight with a friend's children. I reached down to make a snowball and felt a pop. Next thing I know, I spent the better part of the next week staring at the ceiling in our bedroom. I couldn't walk upright until after a number of visits with a chiropractor.
I've never had it quite that bad again, but from time to time, it gives me grief.
LEADWAVE Technologies from Chatham Voice on Vimeo.
And naturally, this doesn't happen when I'm lifting heavy stuff, as I tend to pay attention to proper lifting techniques. No, it generally occurs when I lift something light or just lean and twist the wrong way to pick something up.
Maybe if I hook myself up to the medieval rack, I could stretch things out. Then again, my chiropractor probably works his magic in a much less painful fashion. And the conversation is always good for more than a few chuckles.
Aches and pains. Sore back. Arthritic hip. This getting older thing really is annoying.
Remember when you were a kid? You'd lie around on the couch in all kinds of contorted positions and never get so much as a stiff neck. I've got a nephew who over the years I've seen watch TV or even play a video game from every imaginable position. No damage.
Yeah, I'm jealous.
A perfect day
 Mother's Day was a simple run at the Corcorans. With my wife getting over pneumonia and coming back to town after taking our daughter to her last dance competition of the year, I wanted to keep it low key and do as much or as little as she wanted.
After a relaxing morning, we went for a drive through Blenheim and eventually to Erieau, where we stopped for an early dinner, enjoying the waterfront view from Bayside Brewery's patio.
As a boat went by in the distance, the purr of the outboard motor left me thinking it was a perfect afternoon. I find that sound very relaxing. Ditto for the warm sun, light breeze, and great company.
We eventually headed home, but not before a nice, slow drive through Erie Beach, looking longingly at several of the pristine homes along that stretch of roadway.
It doesn't hurt to dream.
 Speak up
 This week, I'm losing my hearing, or at least much of it, for a day. On Thursday, the Canadian Hearing Society is giving me custom fit earplugs that will severely limit my ability to hear. I'm part of an awareness raising exercise where about 10 of us are being fitted with such devices.
I'll be tweeting about it and posting to Facebook as well that day, and my next column will detail about what I encountered throughout the day.
It should be an eye-opening, and ear-closing, experience.