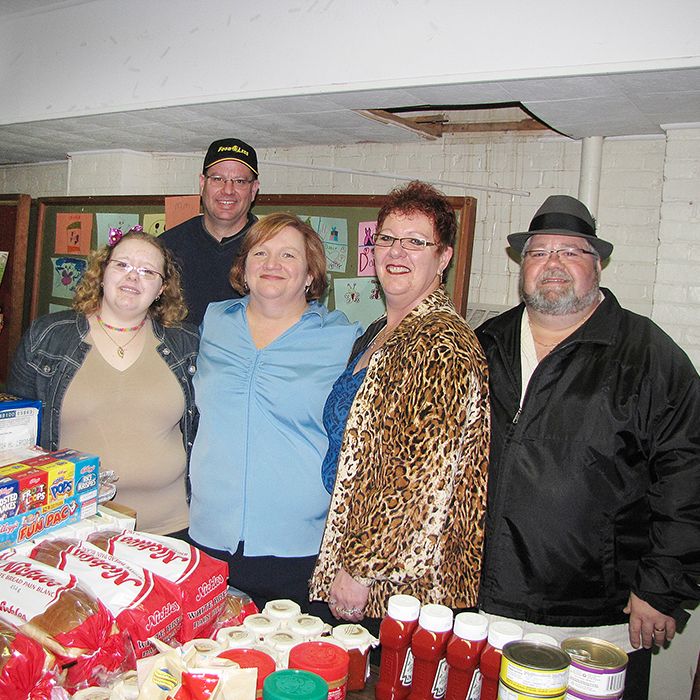 Brent and Tammy Ripley are known for their generosity around the Christmas season, as they organize the annual Community Cares Christmas dinner. But they gave and gave and gave this past weekend, donating hoards of non-perishable food items to various soup kitchens in the municipality.
It's all because people gave to them, in large quantities, after someone did just the opposite.
Thieves broke into the Ripley's home last December. It shook the couple's belief in their fellow humans.
Mere days later, that belief was renewed, and then some.
LEADWAVE Technologies from Chatham Voice on Vimeo.
Their home was pilfered just days before their charity dinner. All the funds raised to fund the dinner – about $4,500 – were stolen from them. They also lost family jewelry and other possessions.
The Ripleys planned to proceed with the dinner, with the intent on using their own money to fund the meal that ultimately fed about 600 people.
But they weren't alone. People and businesses came forward. Citizens started popping into their Betty Brite cleaning business on Keil Drive the very next day, donating to the dinner
The money poured in.
"The theft was devastating. It put a lot of negativity in our heads," Brent said. "But the next day, that's when it started. A lot of people would walk in the door and hand us $50, $20, or $100. It brought us to tears."
The Ripleys said the number of businesses who came forward to assist are too many to mention, but they did single out Campbell Toyota for donating $1,000 and for Food 4 Less for matching.
"Other businesses would pass the hat around," Brent said. "So many people showed how much they care. We also had twice as many volunteers last year."
The giving kept coming, and quickly exceeded what was originally raised. So the Ripleys wanted to give back. They planned to help eight soup kitchens in the area, but wanted to do so at a time where they think there's a lull in the giving process. They know many people give during Christmas, but thought a spring donation could fill a void.
"We just wanted to turn a negative into a positive," Brent said. "The donations went way beyond the initial costs."
As for their charities of choice, the Ripleys said that any uncooked or non-perishable leftovers from past dinners have gone to local soup kitchens. This time around, they just hope to fill everyone's shelves.
The Ripleys purchased the food at local stores who have in the past helped make the Christmas dinner a success, they said.
For Tammy, who arrived home the night of the robbery mere minutes after it had occurred, the giving is part of her healing process.
"We can't let those guys bring us down; can't let it defeat us," she said. "The public support – the generosity – is amazing. We were helped through a very rough time and we get to keep giving back."