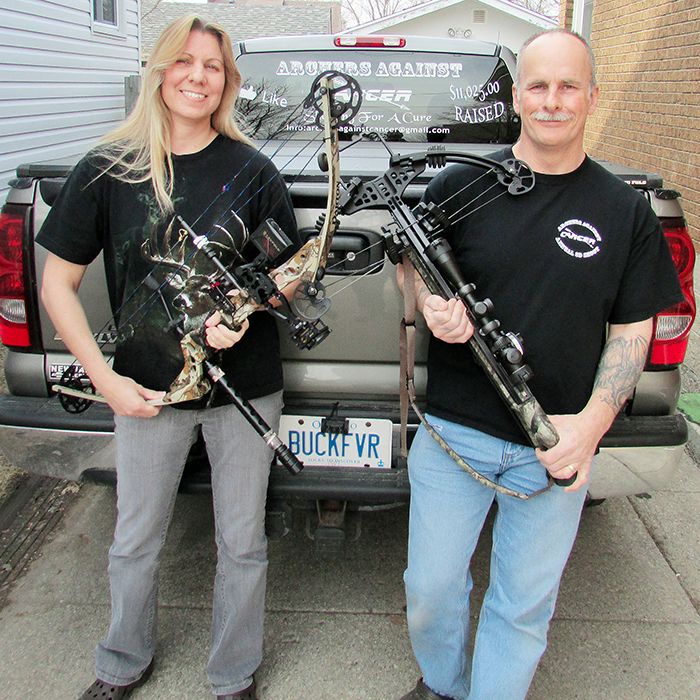 Michelle and Terry French are again organizing Archers Against Cancer, which takes place June 7 and 8 near Dresden. The family event has raised more than $11,000 in three years for the Canadian Cancer Society, and will now support the Gene Goodreau Patient Assistance fund.
For the fourth straight year, archers are taking aim to hit the fundraising bull's-eye to help local cancer patients.
Terry and Michelle French, the brains behind Archers Against Cancer, are gearing up for the June family friendly event.
The concept evolved out of a fundraising effort by Michelle when she was on a Relay For Life team five years ago. She raised $500 by having folks come out to shoot targets in a one-day event with Lambton-Kent Archers.
"I thought that if I could raise $500 in one day, shooting on a crappy day, we could do so much more," Michelle said. "I started to think that if we did a whole weekend shoot and invited families, I wondered how much money we'd be able to raise."
LEADWAVE Technologies from Chatham Voice on Vimeo.
Their first Archers Against Cancer event raised $1,700.
But it has steamrolled since then, as the three-year total to date is more than $11,000.
In 2013, the Frenchs estimate about 100 people took part each day.
"Last year, we had a lot of people who had never shot a bow before," Terry said. "We supplied the equipment and gave them training. They shot as much as they wanted on the practice range."
For more experienced archers, there is a course set out through the property, with about 40 targets. Terry, president of the 3D target course at the Lambton-Kent Archers club, said it takes a person at least two hours to do the entire range.
But the course loops back to the public area at its halfway point, if participants want to take a break or stop to get something to eat.
There is also on-site "primitive" camping available. Michelle said tent camping, without hydro or running water, is an option for participants.
Terry said the weekend event wouldn't be possible without the help of a large group of volunteers. Some come from the Windsor Sportsmen Club and Kingsville Wild Goose to help on the weekend, and to bring additional targets for the course.
The Frenchs would like to see the event grow this year to about 150 people per day.
Michelle encourages parents to bring their kids out, as "they just love it."
Archers Against Cancer takes place June 7 and 8 near Dresden, on the property of Lee Johnson at 4688 Kent Line.
Admission to the event is $15 for anyone aged 12 and up, $6 for kids aged seven to 11, and free to anyone under age 7.
Anyone who brings $50 or more in pledges can shoot for free. Pledge sheets are available online at www.archersagainstcancer.ca. Anyone wishing to donate can do so right on the website as well.
Michelle said for the first three years, they turned over all funds raised to the Canadian Cancer Society, but that is changing this year after they learned about the Gene Goodreau Patient Assistance Fund, named in honour of the late Gene Goodreau of Chatham-Kent, who lost his battle to lung cancer seven years ago.
The fund helps families offset the costs associated with fighting cancer.
"We thought it was amazing. That's where we want to place our support," Michelle said.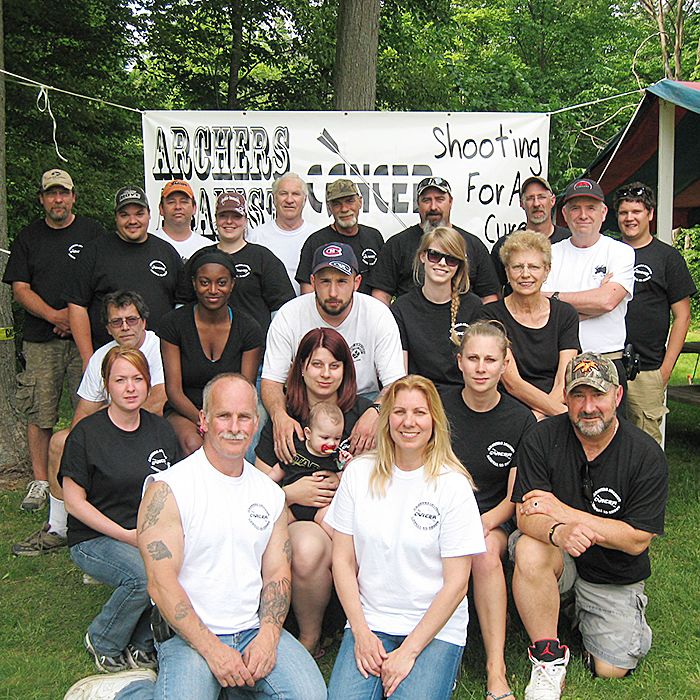 Comments
comments