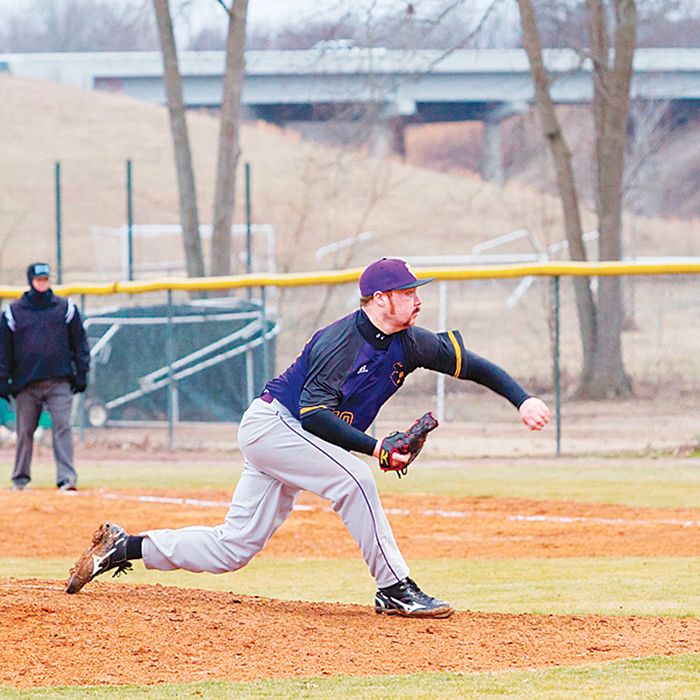 For many baseball players, a Tommy John surgery can mark the end of a career. Coming back from two such surgeries to compete at a high level is almost unheard of; but that's exactly what Chatham's Rich Corrente has done this season.
Corrente is playing for the St. Catherine College Patriots in the NAIA's Mid-South Conference, after returning from two Tommy John surgeries over the past four years.
"This is my first year healthy again and relieving now for the Patriots, it's been a good season," says Corrente. "My arm feels great and I feel that I am in better shape than ever. I feel that I've put up good numbers."
LEADWAVE Technologies from Chatham Voice on Vimeo.
A Tommy John surgery is a reconstruction of the ulnar collateral ligament in a players' elbow, which is replaced by a tendon from elsewhere in your body, and typically takes a year to fully recover from. Corrente, who played for Erie Community College prior to attending St. Catherine College, which is located in Kentucky, is one of few pitchers to return to competitive action following two such surgeries.
"My first one occurred in 2010 during my first year at Erie Community College," Corrente explained about his two surgeries. "One day I just could not throw the ball or straighten my arm out. My second one occurred in 2012 at St. Catharine College where I am now. It just was from overuse of my elbow and not enough rest to where my ligament was stretched and the best bet was to have surgery."
From not being able to throw a ball, or even straighten his arm, to competing again in college baseball, Corrente knew he would return from the surgery to play.
"After surgery, I planned on making a comeback to baseball no matter what. I was going to work hard and prepare for the best and make it back strong and healthy."
Which is exactly what Corrente did; return strong and healthy. Now, the former Chatham Minor Baseball star says he has other goals.
"What I am hoping to personally achieve this season is to complete a whole season with no injury and pain free, put up good stats, and help the team get wins."
Corrente has one more year of eligibility, which he plans to use with the Patriots. This summer, he'll take the same route as another Chatham baseball product, Larry Balkwill, did. Balkwill played in the Intercounty Baseball League (IBL) with the London Majors before signing his first professional contract with the Sonoma Stompers of the Pacific Association of Professional Baseball. Corrente will attempt to follow a similar path as he suits up with the IBL's Burlington Bandits.
"This will not be my last season, I have one more year of eligibility left for baseball that I will be using next season with the Patriots. I just signed a couple weeks ago with the Burlington Bandits of the IBL, so I will be playing there this summer," explained Corrente.
Following that, Corrente hopes he'll have a shot at fulfilling his own professional baseball dreams. With the work ethic and dedication to the game Corrente has demonstrated following his surgeries, it's clear that anything is possible for the Chatham product.
"My long-term goal for baseball is to make it professional. I plan to work hard this season and this summer, get my velocity up and work on my mechanics to improve my velocity, and it will help with the elbow."
The Burlington Bandits season opens on the road when they visit Toronto on May 4, around the same time his St. Catherine College season will end should the Patriots enjoy a long playoff run.
Comments
comments