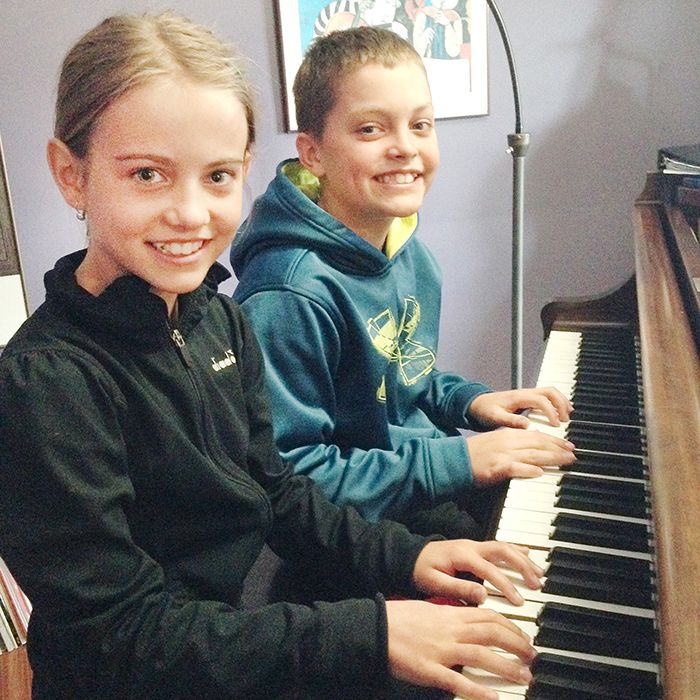 Olivia and Brandon Hunter practice piano in the days leading up to the start of the annual Kiwanis Music Festival. Their mother, Jennifer Trinca, took part in the festival when she was young, went on to study music in university, and teaches it today with the St. Clair Catholic District School Board.
The first notes of the 69th annual Chatham Kiwanis Music Festival will be sounding March 31.
For former competitor Jennifer Trinca, it's familiar territory in some ways, yet nerve wracking in others.
Riverview Bingo Palace 02 from Chatham Voice on Vimeo.
Trinca teaches music with the St. Clair Catholic District School Board. She has students in the festival. And she had two children competing as well.
The Chatham woman is no stranger to the festival, as she first competed at the tender age of five and continued all the way through high school.
Trinca first started piano at the age of four. Then she picked up a violin three years later and added that to her competition repertoire.
Her interest in music continued into university and beyond, as she went to Western to study music, and later received a Bachelor's degree in education.
"It just sort of set me on that path early on," she said of the festival. "I'm lucky to have my parents who saw the value of having a music education."
According to festival organizers, Trinca was consistently recognized by adjudicators for her outstanding musicianship and was the recipient of numerous Kiwanis scholarships and awards over the years.
Looking back over all her festival performances, Trinca said she can't even recall her first performance.
"I remember my first performance where I forgot my music, though. That one sticks in my head," she laughed.
All those years taking to the stage as a competitor did little to prepare her for when her children perform, biologicals and students alike.
"That feeling in your stomach when you know you are next to perform, well, it's worse for when my kids are up next," she said. "I never got too nervous overall. But as an educator, I'm nervous for my students. And when it's your own kids, that's nerve wracking."
Trinca said the Kiwanis Music Festivals are invaluable to encouraging kids to develop their artistic sides at an early stage.
"Music can be beyond your back door. I've come full circle. I teach in the school system. I see the value of giving the child the opportunity. It can stay with them for the rest of their lives."
She hopes it will have such an impact with her children. Brendan, 13, and Olivia, 12, started competing at a young age. Emma, 9, will likely start in the festival next year.
"She was more of a visual artist, but now she's studying piano again," the proud mother said.
As for the older two, Trinca said they fare "quite well" in the competition.
"They love to win, but it's about the process," she said. "They are lucky to have been given this opportunity to learn the music. That's the lesson."
Comments
comments
« OPP to slow traffic on westbound 401 – UPDATED Westover – Stage Two treatment »