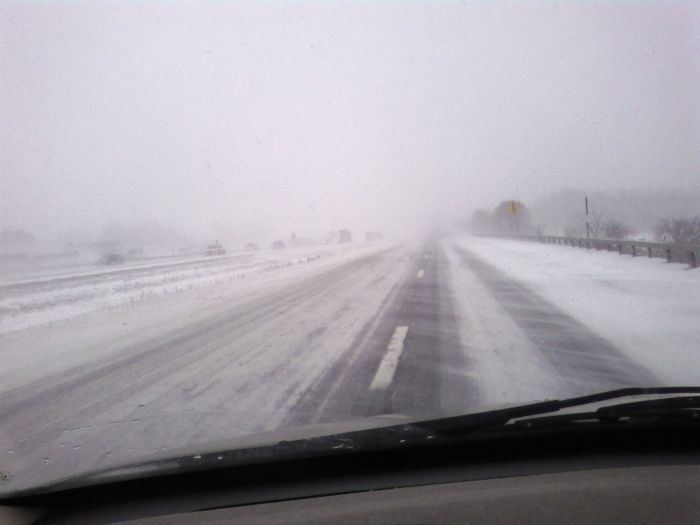 A wild night on the road turned into a wild effort to corral a horse – on Highway 401.
Chatham-Kent OPP say a pickup truck towing a horse trailer lost control shortly after 9 p.m. Tuesday night, resulting in one of the horses getting loose and galloping away down the highway.
The OPP had to call in TJ Stables owners Terry Jenkins and John Basden to help transport the horses to a vet for treatment.
Jenkins said it was a challenge just getting out to the highway from their Gregory Drive stable.
"We got a call about 10 p.m., hooked on our trailer and crawled over there. The roads were terrible," she said.
Jenkins said the two standardbred horses were returning from a night of racing in London, when the truck hit a patch of ice about two kilometres east of the Communication Road exit, and the trailer jack-knifed, hitting the truck before coming loose, spinning and ultimately flipping over.
No one in the truck was injured, but the mishap caused one horse to be ejected, and it took off running, according to OPP.
Police say as it headed westbound – with traffic, an alert truck driver drove alongside the horse to keep it contained.
Officers were soon able to get control of the horse. Police say one officer walked the animal across the westbound lanes as other officers stopped traffic, up the exit ramp and across the Communication Road overpass to Provincial Offences Court.
As for the other horse, Jenkins said she and her husband arrived to an unexpected sight.
"The horse somehow got turned around in that tight space in the trailer and was standing upright on the ceiling of the trailer. The floor was above its ears," she said.
She said the horse was very willing to leave the upside-down trailer for the TJ Stables one.
"That horse got out of the trailer and just jumped right into mine. He was glad to get out of Dodge," she said.
Both horses suffered some cuts and bruises and were taken to Dr. Bernie Ferguson from the Harwich Veterinary Clinic, where they had their injuries treated.
Jenkins said while the horse that got ejected had "some pretty significant cuts," none were life threatening.
As for having to head out on such a rough night on the roads, Jenkins takes it all in stride.
"It was really awesome to have that opportunity to help somebody," she said. "The Canadian Cowgirls (operating out of TJ Stables) travel a lot, and the horse community is very helpful. We get help while we're away, so it was our opportunity to pay it forward."
Jenkins credited the OPP for putting a priority on the care of the injured horses.
"The police officers expedited everything. They did really well to make sure the horses got taken care of quickly," she said. "I can't say enough for the way they handled the situation."
Comments
comments
« OPP to close section of w'bound 401 for an hour Whirlwind dance season begins »