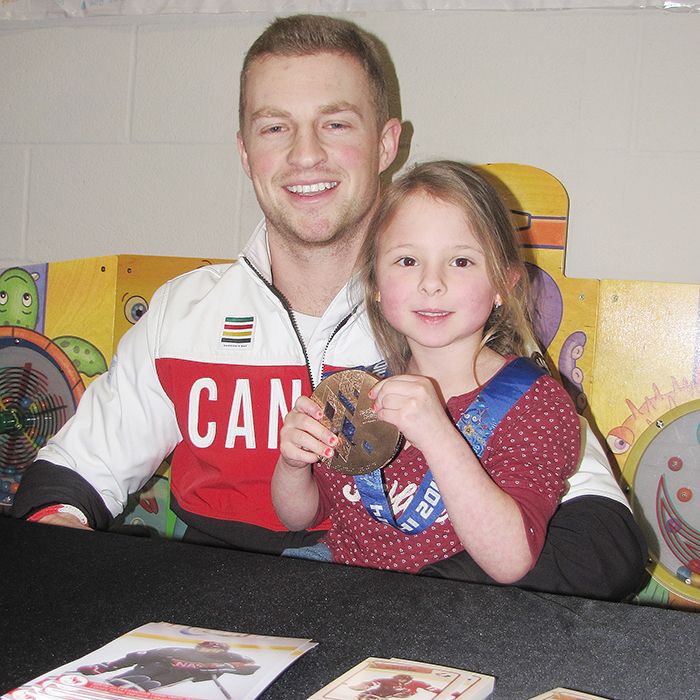 It was a hero's welcome for Chatham native Derek Whitson, a member of Canada's bronze medal sledge hockey team at the 2014 Paralympics in Sochi, Russia.
More than 50 people, many dressed in red and white, turned out to greet Whitson at the Children's Treatment Centre in Chatham on March 20.
Riverview Bingo Palace 02 from Chatham Voice on Vimeo.
The 24-year-old defenceman started his sledge hockey career through the centre's adapted recreation program in 2000.
"This medal is theirs as well," said Whitson, paying tribute to his time at the centre. "I'm happy that I get to share this with Chatham as well. I've been calling this 'Chatham's medal.' Everyone's got a piece of it."
Whitson signed autographs, posed for pictures and gave people a closer look at the medal.
Canada beat Norway 3-0 in the bronze medal game after a disappointing loss to the United States in the semifinal.
For Whitson, losing the bronze medal game in Vancouver in 2010 was a great motivator for the third-place showdown in Sochi.
"I remember the pain of Vancouver, losing that bronze and not coming home with anything," said Whitson. "I wasn't doing that again."
He also made the most of his Paralympic experience, watching other events, taking photos and chatting with volunteers.
"I did a lot and took a lot of tours. It just seemed like an Olympic atmosphere," said Whitson, who is moving to Medicine Hat, Alta., to work with the national women's sledge hockey program.
His girlfriend, Tara Chisholm, is the head coach of the team. Whitson is an assistant coach.
Longer-term, he also wants to play in the 2018 Paralympics in Pyeongchang, South Korea, with an eye on bringing back the gold medal to Chatham.
"In a way we lost, and it lights a fire even more that you want to keep going back to the top," said Whitson. "I'll be back. I'm not done chasing that gold yet."