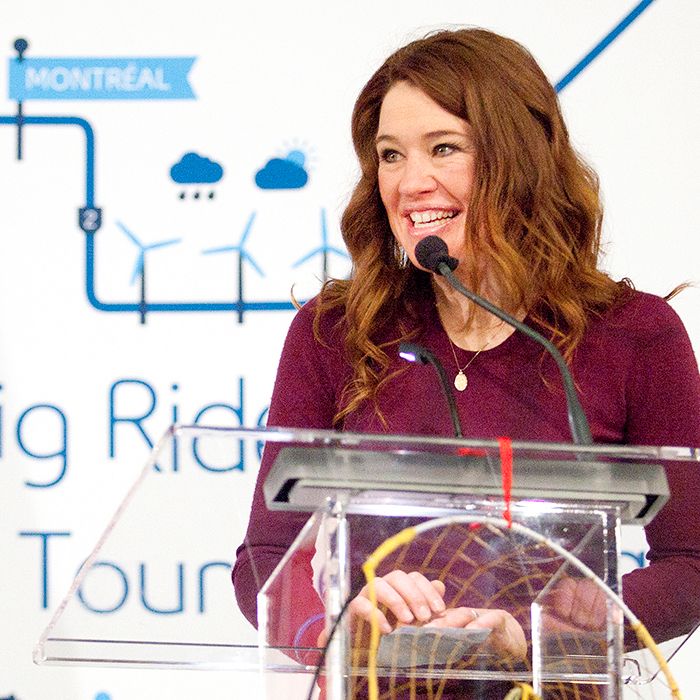 For millions of Canadians suffering from mental illness, it can be a daunting task trying to lead a normal life from day to day, something six-time Olympic medalist Clara Hughes knows all too well.
The Canadian kicked off her Clara's Big Ride in partnership with Bell Let's Talk campaign on March 14 in Toronto, embarking on a 12,000-kilometre cycling journey across the country. She'll make 95 stops in communities, sharing her story and struggle with clinical depression.
Riverview Bingo Palace 02 from Chatham Voice on Vimeo.
On Day 3, she stopped in Chatham at the John D. Bradley Convention Centre on Sunday evening at a spaghetti dinner in support of the Make Children Better Now Foundation, where 850 people gathered to hear her speak. She visited Ursuline College Chatham the following morning.
Hughes' 110-day adventure is a way to continue the discussion of mental health illness.
"We actually rode 150 kilometres today from St. Thomas here to Chatham and it was cold," Hughes said Sunday.
Hughes had been looking forward to speaking at the Chatham event for months.
"When I heard about this event where 850 people were having a spaghetti dinner, I thought, 'Where does that happen?' It happens here in Chatham," she added.
The long-track speed skating and cycling Olympian has an impressive array of accomplishments, including being the only Canadian to ever win medals in both the Winter and Summer Olympics, and the only Olympian in the world to have won multiples in both. However, her path to those medals was not easy.
Her life at home included a father who was an alcoholic. In her youth, Hughes became involved with drugs.
Hughes eventually turned to sport, and after two bronze medals at the 1996 Atlanta Summer Olympics, Hughes realized something was wrong.
She had hoped those medals would make her happy, but instead she said her feelings got much worse.
Crying often and not wanting to be thought of as weak, she struggled to hide her emotions until a part of her team noticed and shared ways to get better.
Today, Hughes is retired from speed skating and has become an integral part of the Bell Let's Talk campaign over the past four years, focusing her efforts on connecting with youth across Canada.
"The common thing is mental health and the common thing is caring about the subject and wanting to do something about it," said Hughes about the events at which she speaks.
"Everywhere I am reminded that this ride means something, and it's connecting us at a deeper level, and will hopefully lead to some changes. Every kilometre is special," she added.
Hughes said through Bell Let's Talk, an important discussion has begun.
"I think a lot of what is missing is understanding, compassion and education basically. We don't understand what mental health is and it's not something that's been talked about at the level it needs to be," said Hughes.
With her cycling journey just beginning, Hughes knows the road to a stigma-free country is a long one, but believes Canada can get there, beginning with communities such as Chatham-Kent.
"Ten to 15 years from now, I see this generation erasing the stigma. They have the power and capacity to do it and I want to really tell them and show them I believe in them."
Comments
comments