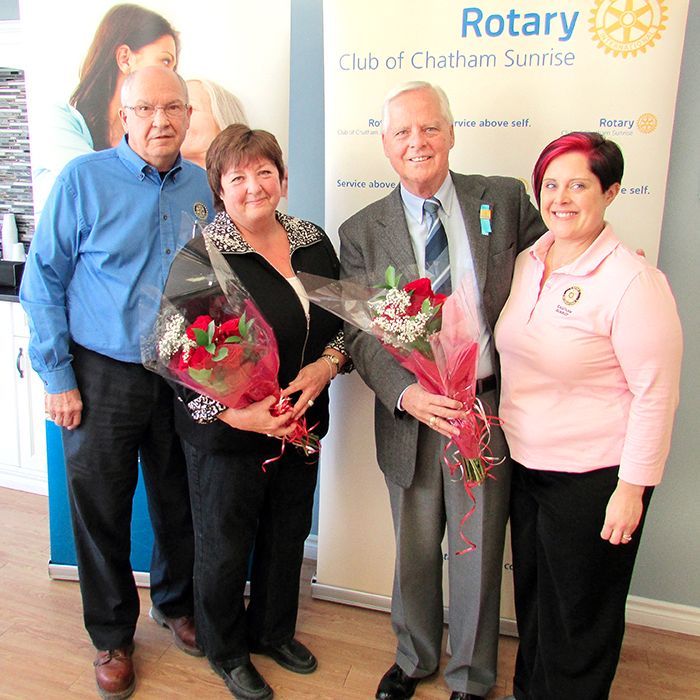 From left, John Lawrence, president of Sunrise Rotary Club of Chatham; Laurie Nash, wife of the late Jim Nash, a former club president, John Case, fundraising co-ordinator with the Chatham-Kent Hospice; and Brandon Stuart, Sunrise Rotary club member, were on hand Thursday to launch this year's Roses for Rotary fundraising event. Funds raised will go towards the Chatham-Kent Hospice.
Want an inexpensive way to say "I love you," to your special someone?
The annual Roses for Rotary campaign kicked off March 6 at St. Andrew's Residence in Chatham.
This year, the funds raised will go towards the Chatham-Kent Hospice, which is in its fundraising infancy stage.
John Lawrence, president of the Chatham Sunrise Rotary Club, said the annual fundraiser is always a hit.
"People get good value for their money and recognize the money is going to a good cause," he said.
LEADWAVE Technologies from Chatham Voice on Vimeo.
Brandon Stuart, who is running this year's Roses campaign, said the price for a dozen roses is $20, which is unchanged from previous years.
Lawrence said the roses are "a great way" to show your appreciation to a spouse or special someone, and not on Valentine's Day, to deliver the message, "Just because I love you, dear."
He added the Sunrise Rotary Club has a focus on youth, literacy, health and the environment. The Chatham-Kent Hospice fits right in.
Former Sunrise Rotary president Jim Nash died last year in hospital after a fight with renal cancer. His wife, Laurie, was on hand for the Roses for Rotary launch, and said her husband could have benefitted from a local hospice.
"The last few weeks of life, having a home-like setting of a hospice would be a wonderful place to receive compassionate care," she said.
Laurie said local hospital staff provided "wonderful" care for her husband in his final days, but believes is it important to "take a patient out of a clinical setting and provide that home-like setting."
Lawrence said Sunrise Rotary is committed to providing the hospice $40,000 over the next three years.
He said last year's Roses for Rotary event raised about $12,000.
John Case, chair of the hospice fundraising committee, said the hospice currently focusing on corporate donations and "big donors," with the public phase of fundraising likely launching sometime in August.
"We're looking at $5 million. The first $3 million is to get the shovel in the ground and have the hospice built.
Stuart said anyone wishing to order roses can do so from any Sunrise Rotary member, or by visiting the Sunrise website. Deadline for ordering is March 25, and pickup date is April 2 from the Portuguese Social Club on Grand Avenue East in Chatham. Alternatively, you can have the roses delivered.
Comments
comments