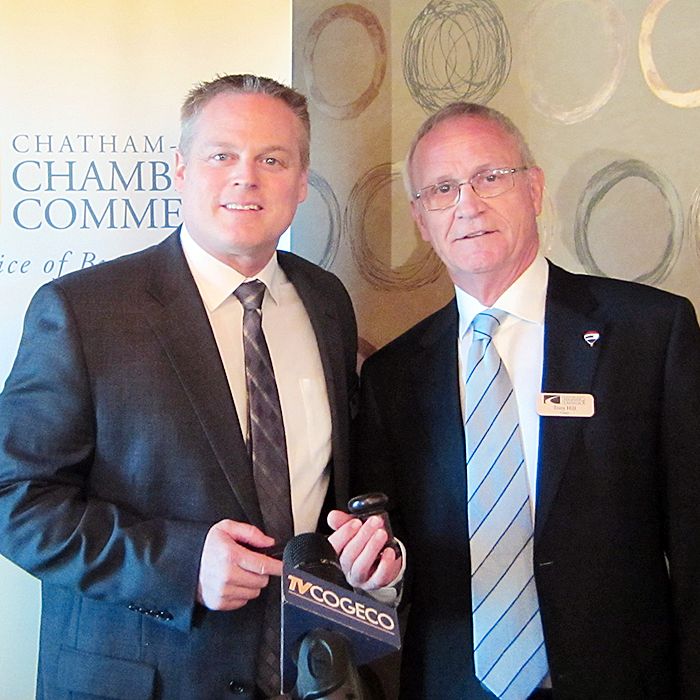 It hasn't taken Tony and Jennifer Hill long to put down deep roots in Chatham-Kent.
The two came here from Toronto nearly four years ago, and haven't looked back. This week, Tony Hill was named the chairman of the Chatham-Kent Chamber of Commerce.
LEADWAVE Technologies from Chatham Voice on Vimeo.
He said it seemed like a natural progression for him.
"We got involved with the chamber as soon as we got here. We just got to know (chamber CEO) Gail Bishop very quickly," the realtor said. "We're very curious because we're newcomers, and are always asking questions. Gail suggested I do this because we're always really digging into things."
What Hill wants to dig into over the next year is improving the Chatham-Kent brand.
"I have one main passion – Chatham-Kent branding. Jen and I have both been involved in that. Now I've got a bit of clout. I can knock on people's doors and they'll answer."
The branding also has to reach folks outside of our municipality and inform them what we have to offer, Hill said.
"We go back to Toronto fairly frequently. I tell people I've known for years where we are now and what we're doing, and they ask, 'Where is Chatham-Kent?' With the size of Chatham-Kent, the fact it's on the 401, with the amount of industry still here – and the amount that was here – it's still surprising it's anonymous," he said. "I'd love to help change that."
Hill would love to see more businesses relocate to Chatham-Kent, as well as people.
"Economic development is working so hard to gat all sizes of business here. Audrey Ansell (manager of resident attraction and retention for the municipality) is working hard to keep people here and get them to set up businesses here. That's so important," he said.
Such efforts can have an impact. Before moving to Chatham-Kent, the Hills lived in downtown Toronto – "south of Bloor Street" downtown, as Hill called it. But they wanted a change from the hectic lifestyle that comes with living in the core of Canada's largest city.
"We were looking for, and found, a really nice town which allowed us to work at a more relaxed pace," Hill said. "Eventually, we'll retire here."
Comments
comments