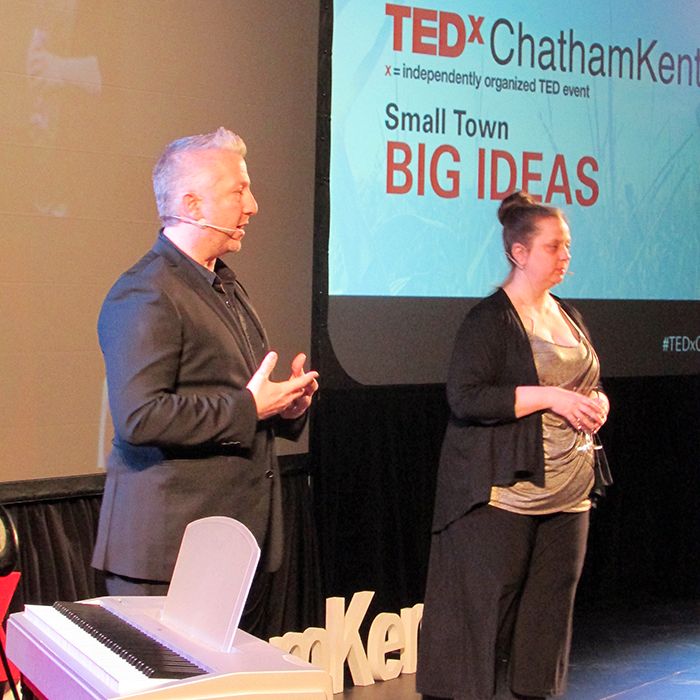 About 100 people gathered at the John. D. Bradley Convention Centre last week with one aim – creating a better community by unlocking the potential of local residents.
It was the first TEDx Chatham-Kent meeting, but based on feedback from those attending, it won't be the last.
"TED" stands for Technology, Entertainment and Design. The "x" is a tag to indicate the event is independently organized. TED events are not-for-profit and are organized around the world to focus on "ideas worth spreading."
Riverview Bingo Palace 02 from Chatham Voice on Vimeo.
The theme of this particular event was  "small town, big ideas," and attendees listened to a number of speakers whose ideas inspired and motivated those present.
John Lyons, local businessman and one of the event organizers, expressed the attitude that made the event possible when he said "Why Chatham-Kent? Why not?"
It's an attitude that must be maintained in order to keep the enthusiasm going.
Those attempting to bring innovation and change to our community face two hurdles, the first being an attitude held by some of what would have been called "the establishment" in an earlier era, that things are fine the way they are.
That thought is usually held by a minority of the privileged few who have "got theirs" and don't want anything new to upset their apple cart, be it new ideas, competition or anything that challenges the established order of things.
The second is the "if you're any good, why are you in Chatham?" group that seems to delight in tearing down ideas or initiatives without offering any alternatives.
Both groups are relatively small but wield an inordinate amount of clout; that is if we let them.
It may seem cliché, but the old axiom of "lead, follow or get out of the way" really does apply here.
At The Chatham Voice, we've seen the incredible potential of ideas and talents in our community and we do our best to showcase them each week.
We all have the power to make our community whatever we want it to be.
Placing limits on our potential doesn't serve any purpose.