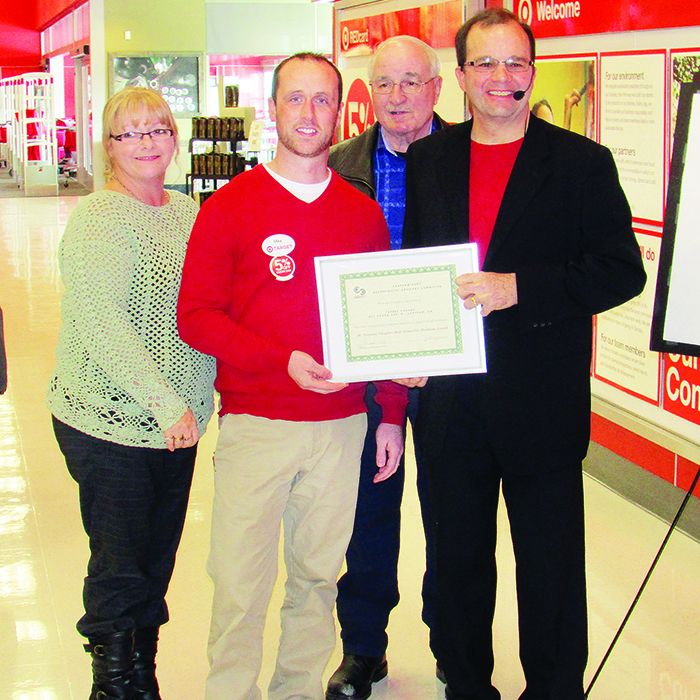 Target Chatham and Heritage Dental received awards from the Chatham-Kent Accessibility Advisory Committee Tuesday.
The committee annually recognizes businesses that improve accessibility.
Ralph Roels, chairman of the Chatham-Kent Accessibility Advisory Committee, said the committee's main focus is to ensure municipal properties are accessible to people, regardless of ability, but also looks to local businesses to see how they are faring in making their establishments more accessible.
"This is such a wonderful part of my job," he said. "These places make sure anyone with any ability can get in and get access."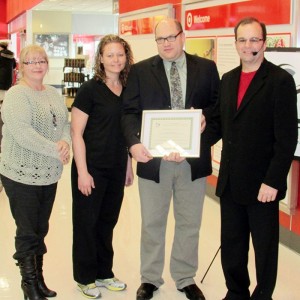 In the case of Heritage Dental on Baldoon Road, Roels said accessibility was obviously factored into the construction of the new building.
"It's roomy, with big doors, large hallways and washrooms that are very accessible," he said. "But the people working there also recognize that if someone needs assistance, they receive it."
As for Target, Frank VanOirschot, a member of the advisory committee, said the anchor store in Thames Lea Plaza has also taken accessibility into account with its design, as well as the training of staff.
"The washrooms are really good and the carts are very accessible, but most importantly, they (staff) recognize when someone needs help, they're ready to provide it," he said.
Chatham Coun. Marjorie Crew, representing the municipality, said the efforts of local businesses to make accessibility improvements are greatly appreciated.
"I'd like to thank all the recipients for helping to make our community barrier free," she said. "We have a lot of work still to do, but with this committee, it's getting done quickly."
The two businesses weren't the only recipients of recognition. Michelle Schryer, executive director of the Chatham-Kent Sexual Assault Crisis Centre, was given the accessibility advocate award.
Mickey Puddicomb, a member of the accessibility advisory committee, praised Schryer as a champion for accessibility.
"She welcomes anybody with a disability and makes them feel at ease," Puddicomb said. "If anyone is in need, it doesn't matter if she's busy or not; she's there to help."
Comments
comments