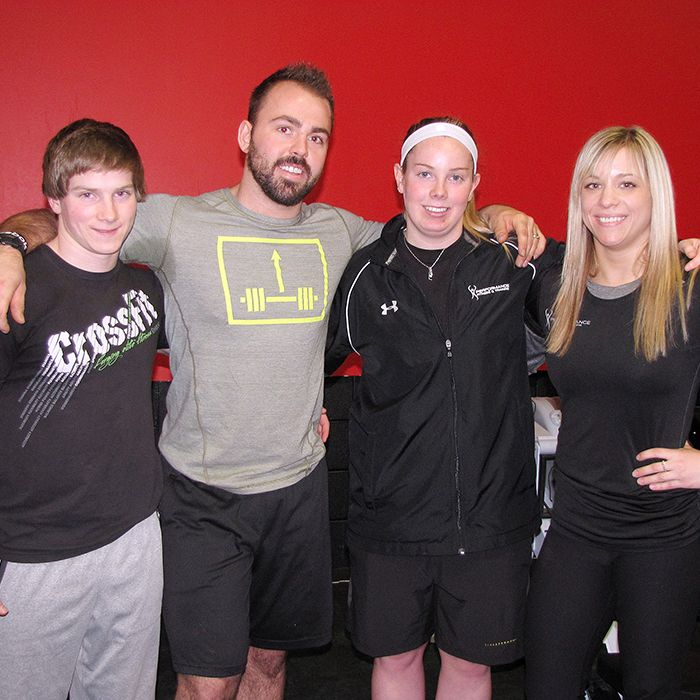 Chad Langan, Kyle Buchanan, Hokey Langan and Jaleesa Russell finished first in their respective divisions at a recent CrossFit competition in Ann Arbor, Mich.
A group of Chatham-Kent athletes who wanted to test their fitness levels came away with the top marks at a competition in Michigan.
Chad and Hokey Langan, Kyle Buchanan and Jaleesa Russell traveled to Ann Arbor to compete in the Winter Thaw CrossFit event at Joust Strength and Fitness on recently. Competing as two-person teams, Chad Langan and Buchanan finished in first place in the men's division, and Hokey Langan and Russell won the women's division.
"It was a good experience overall," said Chad Langan, 21, of Chatham. "It was fun … challenging workouts and definitely left us sore the next day, which is always a good thing."
Close to 50 teams took part in the event that involved a series of workouts that tested the competitors' fitness.
The four athletes are part of the Chatham CrossFit program at Performance Fitness and Training.
According to the gym's website, CrossFit athletes train across a broad range of methods or modalities such as gymnastics, weight lifting and cardio to achieve total fitness.
At the Ann Arbor event, the competitors knew the first three workouts before the competition.
Advised that they would need winter gloves, a fourth event involved a workout outside in the snow that included a three-legged, mile run.
"As the only Canadian team, we didn't want to drop out of that one," joked Russell, 23, of Blenheim.
While some members of the group have competed at several events in Ontario, this was the first time they put their fitness levels to the test in a U.S. competition.
"It was kind of cool to get out and experience a different kind of atmosphere and compete with a partner," said Russell. "It was nice to be the only Canadian team there and come out on top."
Hokey Langan, 22, of Chatham, agreed that competing with a partner made the competition less stressful.
"It was honestly one of the best experiences I had in a CrossFit and it just makes me love the sport even more," said Langan, who starred for the women's hockey team at Ohio State University.
Buchanan, 26, of Chatham, who along with Chad Langan is a CrossFit coach, said he enjoys the highly competitive aspect of the CrossFit events.
Noting that he once played tennis at a high level in Canada, the CrossFit competitions have filled a void.
"It changed my life. It's my passion," he said.
The group is now looking ahead to training for a worldwide competition as they hope to qualify for the CrossFit Games in Carson, Calif.