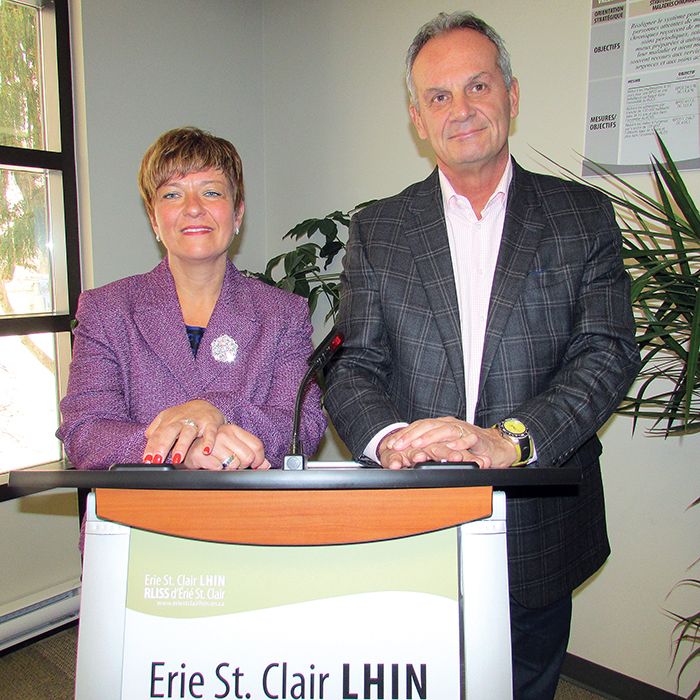 The goal of delivering better care for high-needs patients in Chatham-Kent is a step closer thanks to a new Health Link initiative that will bring together all health providers in the community.
According to an announcement recently by the Erie St. Clair Local Health Integration Network (LHIN), the Chatham-Kent Health Link, made up of 17 local health care and social service providers, is a team effort to co-ordinate treatment and wrap care around patients, ensuring care is consistent, effective and based on the individual needs of each patient.
United FloorsCabinets from Chatham Voice on Vimeo.
LHIN CEO Gary Switzer said the local project team has submitted its business plan to the Ministry of Health for approval and hopes to have the Health Link up and running soon, joining 37 other projects currently approved in Ontario.
, who was on hand for the announcement, said 75% of patients have six or more physicians and three or four pharmacists involved in their care.
"When you can co-ordinate and bring all the providers together, you create wrap-around care with the patient in the centre," Piruzza said. "There are a number of agencies doing a fantastic job and Health Link can work to make sure they connect the dots and ensure the our most vulnerable patients receive the right care, at the right time and in the right place."
Patient advisor with the Chatham-Kent Health Alliance, John Donahue said he was welcomed to the planning process with open arms and believes all the partners involved in Health Link have a deep desire to do what is best for the patient.
"I am very pleased to see this get off and running, and I look forward to seeing the system streamlined to make it easier for patients," Donahue said. "From your own journey, you can see how things can be improved and this is the voice that needs to be and was heard."
As a complex chronic care patient for the past 11 years in Chatham, Donahue brings the perspective of the patient to the table and sees the need for open, accessible, local and compassionate health care. He applauds efforts to make health care better and more patient-centred and the Health Link philosophy of  "nothing about me, without me."
Dr. Martin Girash, LHIN board chair locally, said there was a need to connect the dots when it comes to complex care of patients, and the Health Link partnership is doing this.
"In 45 years, this is the single most important challenge in health care and I congratulate you for being a part of it," Girash said to project representatives at the announcement.
Partners in the project include the co-lead Chatham-Kent Health Alliance and Chatham-Kent Community Health Centres, as well as area family health teams, Mental Health Association, Alzheimer Society, Community Care Access Centre, Family Service Kent, Medavie EMS, St. Andrew's Residence, VON, Westover Treatment Centre, Health Quality Ontario, TransForm Shared Service and the International Centre for Health Innovation at the Ivey Business School.