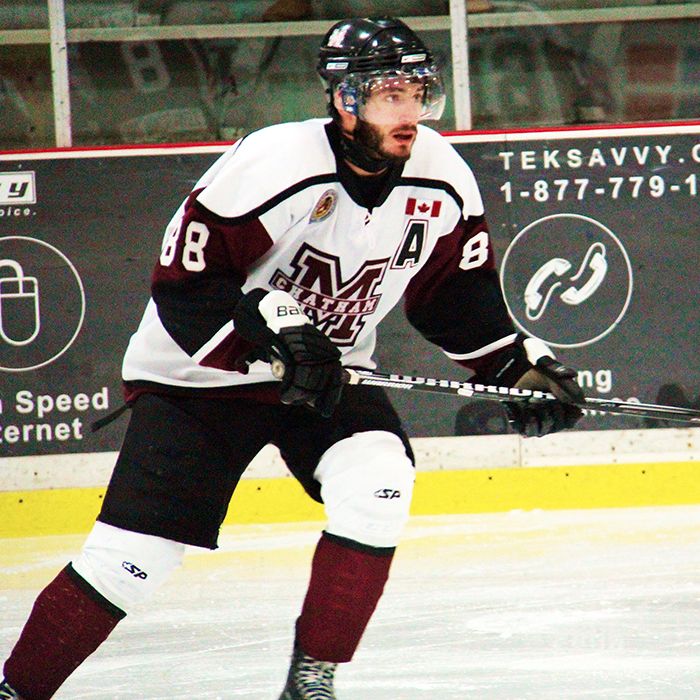 Blake Blondeel, shown here last season with the Chatham Maroons. (Helen Heath photo)
One year ago, Blake Blondeel, playing for the Chatham Maroons, wasn't on the University of Windsor Lancers' hockey radar. One year later, the Lancers couldn't imagine playing without the hard-working forward.
"Blake was referred by his coach last season in Chatham, Bill Bowler," explained Windsor Lancers Men's hockey head coach Kevin Hamlin. "I trust Bill explicitly when it comes to evaluating talent, and he was bang on with Blake. I really didn't know where he'd fit in at the beginning, but we knew we had to find room for someone who worked as hard as Blake did in training camp, and we're glad we did," he continued.
United FloorsCabinets from Chatham Voice on Vimeo.
And what did Bowler, who is now the head coach of the GOJHL's LaSalle Vipers, tell the Lancers about Blondeel?
"He's the kind of kid that elevates everyone's work ethic and compete level, which is something every team needs," says Bowler. "He has the skill to play at the CIS level, and still has a lot of upside as a hockey player. He'll go to areas you need to as you move up the hockey ladder, but his biggest attribute is his compete level and work ethic."
After coaching Blondeel through much of his first season with the Windsor Lancers, it seemed Hamlin agreed completely with Bowler's assessment of Blondeel.
"He's a fast player, who is a major contributor," Hamlin explained about the former Chatham Maroons assistant captain. "Blake is a high energy player, who plays with a sense of urgency and consistency," added Hamlin.
Hamlin said Blondeel fills the role of another Maroons graduate, Brett Vandehogen, who was the Lancers' captain last season and is now playing professionally with the CHL's Brampton Beast.
Blondeel, a Tilbury resident, had 55 goals and 138 points in 184 games for the Chatham Maroons over four seasons. Despite making the step to a higher level of hockey in the OUA, Blondeel says he still finds himself playing a similar role with Windsor, as he did with the Maroons.
"My role hasn't changed much from Chatham to Windsor," explained the Human Kinetics student, who is also minoring in French studies. "I've always been able to play my game, going in the dirty areas, being physical, playing on that edge. I play with a passion, and if the points come they come, but I always put the team ahead of myself."
Even though his role is similar, Blondeel has still been forced to make adjustments to the speed of the game, and in becoming a full time student-athlete.
"I think it's a much faster pace and you can't give the other team any edge or they will capitalize," says Blondeel about the improved competition in the OUA.
"The balance between my studies and athletics has been a learning experience," says the Ecole secondaire de Pain Court graduate. "Finding that balance is the difficult part, but once you find your stride you can establish a routine which makes it much easier."
For Blondeel, making the Lancers was a goal he's attained, but before he leaves the University of Windsor with his diploma in hand, Blondeel has more he'd like to accomplish with his team.
"Making the Lancers was a goal I set out for myself in the summer and now that I have achieved that, the ultimate goal with the Lancers is to win a CIS championship," says Blondeel.
It isn't all athletics however, as Blondeel is continuing to learn on the ice and off the ice. With each class and game, Blondeel, who hopes to pursue a career as a firefighter or police officer, is also soaking in the lessons of being a student-athlete.
"It's my goal to take the benefits of being a student varsity athlete and using it to my advantage, wherever life will take me from here."
Windsor and Blondeel will close out their regular season Feb. 15 against Ryerson.
Comments
comments