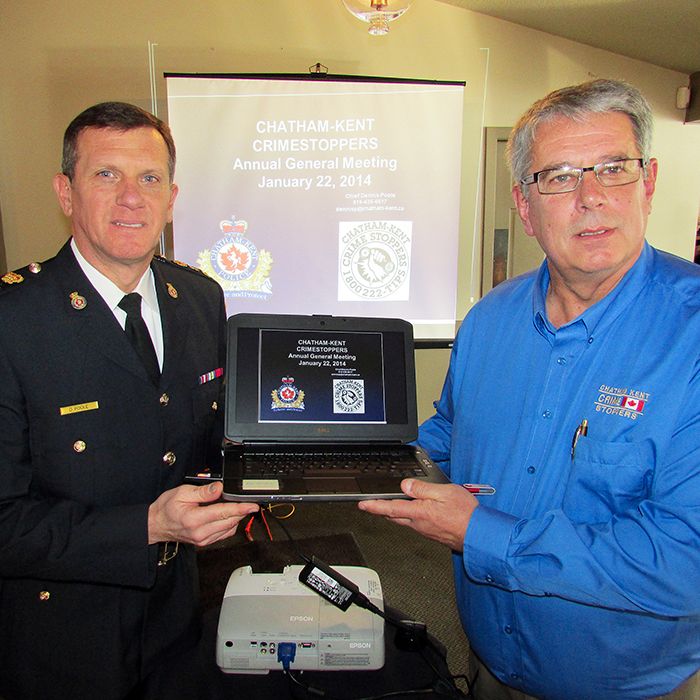 Chatham-Kent Police Chief Dennis Poole and Crime Stoppers' Doug Goldsmith appreciate the efforts of community sponsors in helping to make the local Crime Stoppers so effective.
More than $94 million dollars worth of drugs and stolen goods recovered in 26 years. That's Chatham-Kent Crime Stoppers in action.
The organization has worked with local police since 1987 to encourage people to speak up about criminal activity – and get a cash reward for their efforts.
Doug Goldsmith, the Chatham-Kent Police Services veteran who has overseen Crime Stoppers in C-K for the past five years, said the program helped recover $1.13 million in drugs and property last year. That was down slightly from 2012, but arrests were up.
United FloorsCabinets from Chatham Voice on Vimeo.
Goldsmith said police received 762 Crime Stopper tips by phone and the Internet in 2013. The online tips are a growing area.
"There's been an increase in web tips," he said, explaining a facility in Texas receives the tips and then forwards them to his computer.
"It takes out all identifying information on a person's computer or phone before we see it. But I can still contact them back and have dialogue with them."
Goldsmith said about 60% of all tips Crime Stoppers receives are related to break-and-enters, theft and drugs.
He added tipsters receive their cash rewards in envelopes via discreet exchanges. Without going into details, he said he utilizes a third party to make the cash drops.
"Only the caller and I know there is an envelope with cash waiting for them," he said.
Goldsmith said none of this would be possible without the effort of a dedicated board, associate volunteer members and community business partners. There are 14 people on the Crime Stoppers board and another 20 associate members, he said. And then there are the supporting businesses.
"These businesses provide sponsorship that brings money into our programs," he said. "That money pays off the tipsters and goes to run the organization."
Annual fundraisers run by Crime Stoppers include the rodeo in Pain Court, as well as the Father's Day run, which is organized with the Chatham-Kent Children's Safety Village.
Edwin Shaffner, operator of Jiffy Lube and Suds car wash on Keil Drive, is one of the business sponsors. He said working with Crime Stoppers was a no brainer.
"I've always been interested in the concept. It's worthwhile," he said of the effort.
Shaffner believes involving the public's eyes and ears to help solves crime only augments the police service's abilities, considering there are more than 100,000 people in Chatham-Kent, and about 160 police officers.
"The public can see a whole lot more than the police officers. And with cellphones today, Crime Stoppers is even more important," he said.
Chatham-Kent Police Chief Dennis Poole said the community support for Crime Stoppers is appreciated.
Comments
comments