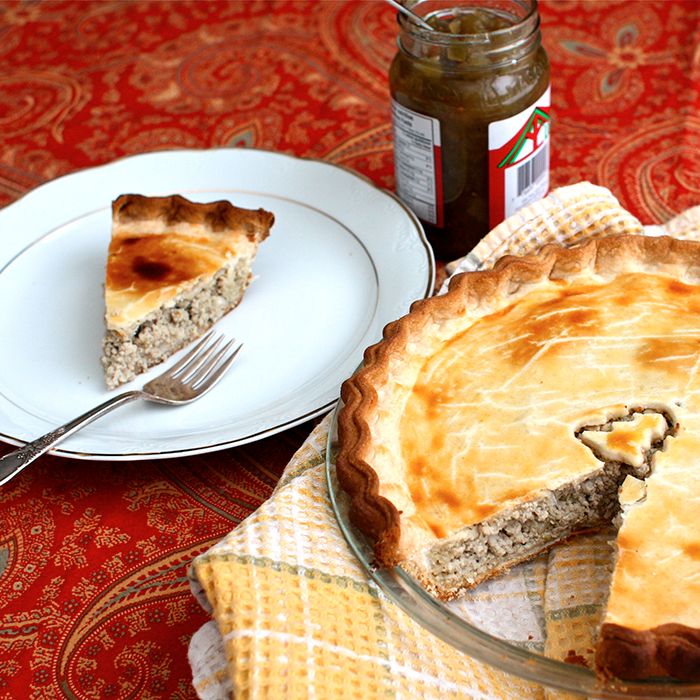 Tourtiere – some days, I think these meat pies should be illegal. They're just too tasty.
That was the case New Year's Day as we gathered in Mitchell's Bay for a family get-together, with tourtiere as the featured item on the menu.
baCK-video-30sec from Chatham Voice on Vimeo.
>
Whenever we head to my brother-in-law's home, there is always way too much food. His wife's side of the family cooks with a passion.
We arrived to see the kitchen table covered with appetizers – cheese trays, veggie platters, plates of crackers, you name it. But I stayed away, knowing the tourtiere lay in waiting.
It was a good plan, reinforced as soon as the aroma of that first pie escaped the oven and filtered throughout the house. As others filled up on the pre-dinner snacks, I prepared to lay siege on the meat pie. I pictured two helpings, especially with gravy on hand.
Yeah, that didn't happen. I filled my plate with cole slaw, potatoes, mac & cheese and meat pie, and was barely able to finish it.
And I wasn't alone. The kids' table declined seconds. I'm talking boys with hollow legs getting full on one plate here!
I don't even think the university lads and lass went back for seconds. It was that filling.
But oh so tasty.
I'm from Quebec, the origin of tourtiere. But I've never had a better meat pie than the ones I've tasted here. Yes, we're talking about an old family recipe showcased New Year's Day. But I've had delicious tourtiere prepared by the women of Immaculate Conception Church in Pain Court too.
On a cold winter's day, with the snow blowing horizontally, there are few things better than tourtiere. Maybe a few soups or stews, but that's about it.
Elf on a Shelf
Our trip to tourtiere paradise followed an evening of revelry with zany friends in the south end of Chatham.
The evening saw this home stuffed with 17 kids running around the basement, and a dozen adults hanging out in the kitchen and living room, playing cards and board games.
At one point, a woman was under the table – because the board game told her to go there. She later transformed into an Elf on the Shelf (or was that a Teacher in the Bleachers?).
It was great to see everyone take drinking and driving seriously, regardless of the fact one of the guys on hand was a cop. The first people to leave the party (the hubby was headed to the Winter Classic the next morning) took Home James. As the rest of us packed up our kids and cleaned the snow off our vehicles, the drivers were people who'd either abstained for the evening, or had perhaps a couple of drinks on the night.
 Baby, it's cold inside
Well, the Corcorans made it through Christmas without catching any of the nasty bugs that have been going around.
That all changed before New Year's Eve, however.
Fortunately (knock on wood), the common cold was the only invader. With friends down with pneumonia, bronchitis, the flu, and other nasty afflictions, I guess we got off lucky.
For once, it wasn't our daughter bringing it home from school, but rather me bringing the cold into the house from work. It hit me straight in the sinuses and then migrated into my chest.
For a couple of days, I could have pulled off a mean Barry White imitation, serenading the ladies with a deep, raspy voice. Well, except for the fact that my voice would periodically break. Think of Barry White during puberty.
As for my wife, to whom I so lovingly donated germs, this illness seemed to want to stay in her nose. It was tissue city for her.
Which brings me to our daughter. During her time away from school for the Christmas holidays, she took to sleeping in (not even a teenager yet) every morning. I think that beauty sleep helped keep her immune system energized.
The Drive-Thru Professor
Many of you may have noticed, Jim Blake wrote a column last week about drive-thru etiquette. I happened to be about six vehicles in front of him on the day he decided to write that humourous piece.
I'd like to think I was what the final straw that led him to bash away on his keyboard. You see, I drove right past the menu board and ordering area, and was just about to order from the garbage cans – where you used to order for years at this particular Tim Hortons – when I realized my error.
The woman at the window got a good laugh when I drove up and declined the coffee she was about to hand me, and explained my predicament.
Yes, I slowed things down in that drive-thru for a few folks that day, including Jim.
It's not the first time I committed this error, and I expect it won't be the last.