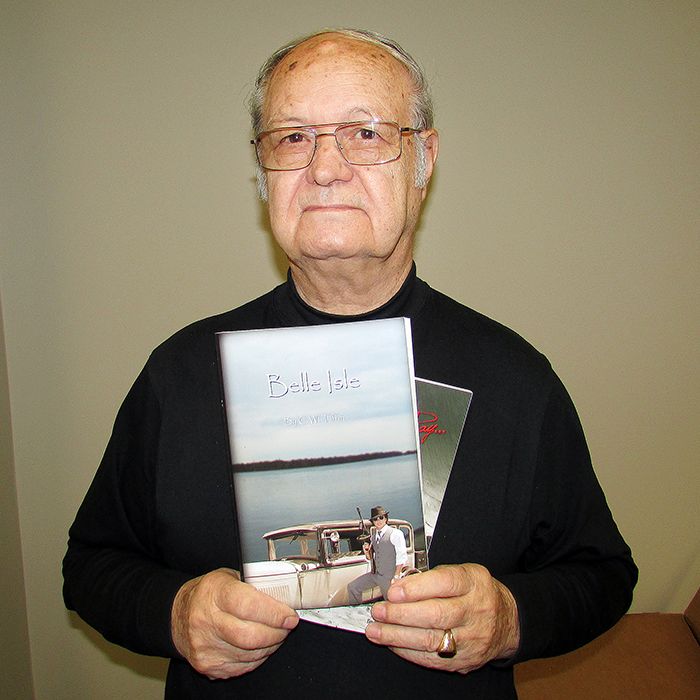 Chatham's C.W. Tiffin writing career may have started later in life, but his passion for the pen has taken over.
Tiffin, who grew up in Chatham, farmed in Charing Cross and retired back to Chatham, has been writing for the past 15 years.
"I used to sit around the house after I semi-retired and told my wife stories about my family," Tiffin said. "She said, 'Why don't you put them in writing?' I think she regrets saying that now."
Affinity Commercial 02 from Chatham Voice on Vimeo.
Tiffin recently released "Belle Isle," his latest book. It's a work of fiction focused on the days of rum running and prohibition.
Written in the first person, the book centres on Bobby and Doug Reagan, two young men who moved to Windsor from Merlin with their family.
While playing in a band at a Windsor club to Americans who crossed the border for a night of revelry, the two realize the real money can be made running booze into the U.S.
But there is no such thing as easy money.
The book follows "The Price You Pay," which came out a couple of years ago, and was about the tragic drowning of a young girl, and the impact the death had on her family. It was a rather dark piece of fiction.
Tiffin has experiences first hand how difficult it is to be published. A Calgary publishing company accepted his first book, "What Goes Around." It held onto the rights, but 18 months later ceased publication.
"I tried to sell it to another publisher, but never had any luck," Tiffin said.
As a result, Tiffin went down the self-publishing path.
"As a writer once said, books are kind of like your children. You prepare them and put them out there and see how they are received," he said.
Tiffin's books sell for $20 apiece. Anyone interested can contact him directly at 519-380-9960.