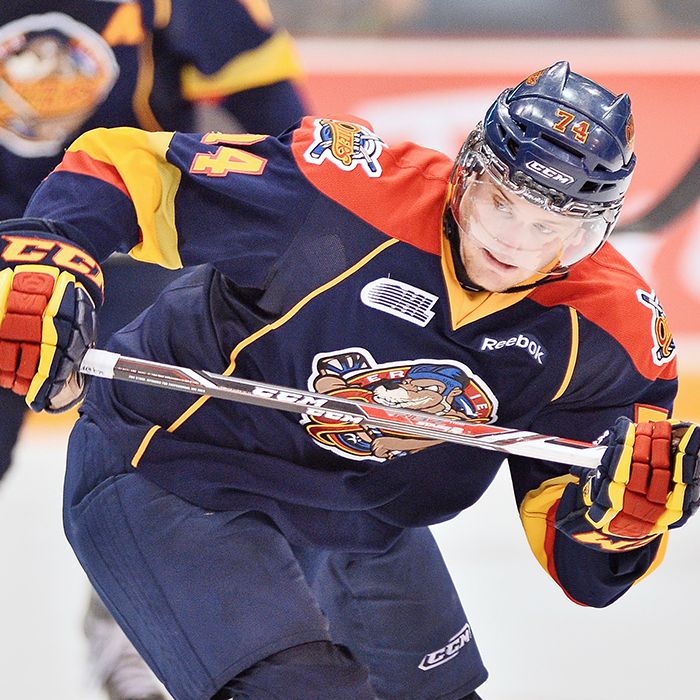 Dane Fox, of the Erie Otters is enjoying a monster season, leading the Ontario Hockey League in goal scoring this year.
Terry Wilson/OHL Images
Dane Fox has come a long way in his five Ontario Hockey League seasons. From playing for a powerhouse London Knights team, to going unselected in his NHL draft year on a weak Erie Otters club, to helping the same Otters franchise build into one of the country's top teams.
baCK-video-30sec from Chatham Voice on Vimeo.
>
He also happened to lead the OHL in goal scoring this season.
"My success this season has been a pleasant surprise," said Fox about his pace of more than goal per game this year. "I am focusing more in practices and trying to do the little things that seem to add up, like shooting more, stopping in front of the net. I am also taking care of my body off the ice."
Fox, who was the OHL's player of the month in November, is tearing up the ice, leading the league in goals by bundles, and playing a key offensive role on a team already loaded with threats at forward, including Toronto Maple Leafs prospect Connor Brown, Washington Capitals first rounder Andre Burakovsky, Vancouver Canucks first rounder Brandon Gaunce, and possible future NHL first overall pick Connor McDavid.
With such a balanced lineup, which also includes top NHL picks Oscar Dansk in net and Adam Pelech on the blueline, Fox has high but realistic aspirations, not only for his personal success this season, but for the Otters as a team.
"Our team goal is to make it as far as possible, with our main goal being the Memorial Cup," Fox said.
The Otters, who have sat atop the OHL standings for much of this season, have qualified for the Memorial Cup only once in franchise history, back in 2001-2002, but have a legitimate chance to qualify for the tournament this season, which will be held in London.
Despite his success this season, Fox, a Chatham-Kent Cyclones alumni, has faced much adversity in recent seasons. From being traded to Erie from London, going unselected in multiple NHL drafts, and last season, missing half the year with a broken foot, this adversity has served as motivation for Fox, and has helped drive him to an elite level in the OHL, and placed him on a sure path to pro hockey next season.
"Adversity has made me a stronger, more determined person," Fox said. "I think it has, ultimately, had a positive effect on my hockey career. I am determined to prove people wrong. My injury made me realize how much I really wanted to play hockey and how quickly things can change."
And how quickly things have changed for both Fox and the Erie Otters, who now sit poised to reach levels neither Fox as an individual, or the Otters as a team, have achieved in the past. The veteran OHLer, however, is not looking too far in advance, and doesn't want to jinx his chances at the pro level. With that realistic approach to the game, Fox also knows he still has work to do to improve as a player.
"My goal for next year is to play at the highest level possible," explained Fox, who attended the St. Louis Blues' training camp this offseason as a free agent. "I know I need to work on my foot speed and to be bigger by working in the gym."
Whether the "highest level" Fox speaks of his the NHL, AHL, or even the ECHL next season, once thing is for certain; he will move to a higher level, taking another step toward his dream of reaching the NHL.