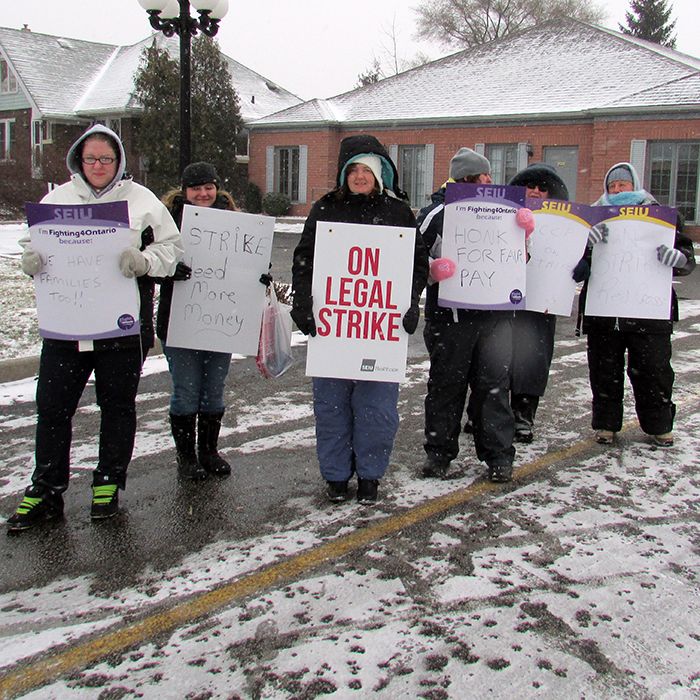 About 50 personal support workers (PSWs) with the Chatham-Kent branch of the Canadian Red Cross Care Partners went on strike Dec. 11.
They are part of about 4,500 PSWs who are striking across Ontario, fighting for higher wages and a better overall compensation package, according to their union president.
Sharleen Stewart, president of Service Employees International Union (SEIU) Healthcare, said it's not just about the top-end wage of $15.02 per hour.
"Wages are low, but out of that, they're required to use their own vehicle to go from client to client," she said, adding the PSWs receive $0.34 per kilometre, "not much when gas is $1.30 a litre.
"They also don't get paid their full salaries when travelling from one client to another. Instead they get what amounts to about a third of their salaries to travel. When you take all that into account, they're getting less than minimum wage."
According to the union, about 48,000 clients across the province are impacted by the strike. Many of the clients are seniors.
Tanya Elliott, director of communications for the Canadian Red Cross, said the safety and well being of their clients remain the top priorities.
"Contingency plans are in place. We're working with Community Care Access Centres to minimize interruption in service," she said.
Stewart said she's been impressed by the resolve and dedication of the PSWs on the picket line.
"They don't want to be away from their clients. They're heartbroken out here," she said. "Their employers are taking advantage of their compassion. They can't make a living anymore. They have no choice but to take this action."
Elliott said the PSWs are "an extremely critical part of our services.
"We highly value the role our personal support workers play in the delivery of services to our clients."
The workers rejected a deal that offered them a wage hike of 11 cents an hour. They haven't had a pay increase in five years.
Stewart said the Red Cross has yet to reach out to get talks going again.
"The Red Cross has not called us since they were informed of the results of the ratification vote, which was turned down," she said.
"We're ready. Call us and get this over so the personal support workers can be back with their clients where they want to be."
Elliott said no additional bargaining dates are set, but stressed lines of communication remain open.
Comments
comments