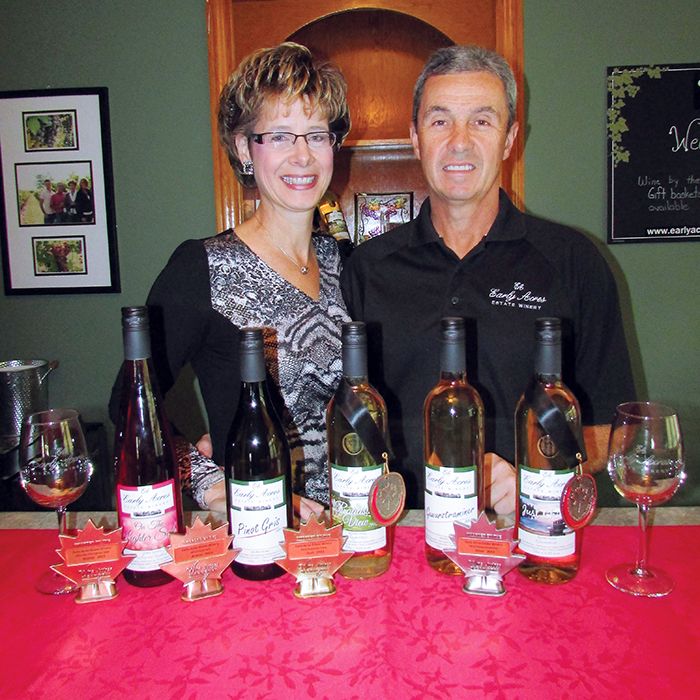 When you win six awards during your first year in business, you must be doing something right. For locally owned and family-operated Early Acres Estate Winery, doing it right translates to making good wine.
Mike and Sue Korpan, with children Kristen and Bryce, have grown from farmers to vintners on their 97-acre farm on Pioneer Line, northeast of Chatham. For 11 years, the Korpans have been growing grapes, but in June of 2012 made the decision to use their own grapes to make wine.
The transition took some time and thought, and Mike said it wasn't as easy as you might think.
"One year, we had a fear that we wouldn't have a home for our grapes and we didn't want them to go to waste and talked it over with our kids," Mike explained. "The growing was easy. The whole family is involved in growing on 600 acres. I always thought I can grow things, but it was a lot of learning to make wine."
"You have to have a passion for it and we always have for the grapes and the vineyard," Sue added. "We enjoy it; it's different every year. Every day is new and every challenge is different."
The site of the winery is the home Mike's parents built in 1949 and for the Korpans, it was a perfect fit as a place to welcome people and share their passion for growing and creating good wine.
"My mother had flowers galore along the laneway and beside the house, and people would stop to admire them. She would stop and talk and they would leave with some of the flowers," Mike said with a smile. "The house is suited for visitors and it seemed natural to put the winery here."
Their passion for wine translated to six awards for their wine in the first year. Roadside View, made with Auxerrois grapes won two gold medals; Gewurztraminer won silver; and Pinot Gris, Just Chillin' made with a Geisenheim grape, and On the Lighter Side, a Riesling/Raspberry fruit wine, won bronze this past year.
Somewhat amazed over their success, the Korpans are also very humble.
"As long as we're making a good quality wine and our customers are enjoying it, the rest is just a bonus," Sue said.
Early Acres Estate customers are enjoying the wine locally and in the U.S., and aren't shy about saying so. The Korpans were surprised to learn their winery won the Best of Lake Erie 2013 award as voted on by U.S. and Canadian readers of the Lake Erie Living Magazine. The magazine features businesses and lifestyle on both sides of Lake Erie.
"We are pretty proud and pretty happy," Mike added.
After a successful summer event at the winery, the couple looks forward to a seasonal event on Dec. 1 when Early Acres hosts Reasons for the Season from 1 p.m.- 4 p.m. Chef Dimitar will be on hand with food samples paired with Early Acres Estate wines, and Connie's Country Store in Dresden owner Connie Babula will bring her baked goods and other items for sale. On the grounds, Puddleford Tree Farm from Kent Bridge will be on hand as well. Entrance to the event will cost you a canned good for the local food bank.
The event is a drop-in and people can come and go as they please, according to Sue.
Locally when out dining, the Early Acres Estate wines can be found at Zeona's Bistro on St. Clair St. in Chatham; the only location so far.
"We have been approached by other restaurants, but we are a small winery," Sue said. "We want to grow slowly, sell what we have and, at the end of the day, make some good wine."
They have also been asked about doing weddings, and while they welcome wedding parties for pictures, they want to stick to farming and wine making for now.
The winery is open to visitors on Thursday, Friday and Saturday from 11 a.m. to 6 p.m. For more information and to see what wines they have available for sale, check out the website at www.earlyacresestatewinery.ca or call 519-354-9070.
Comments
comments