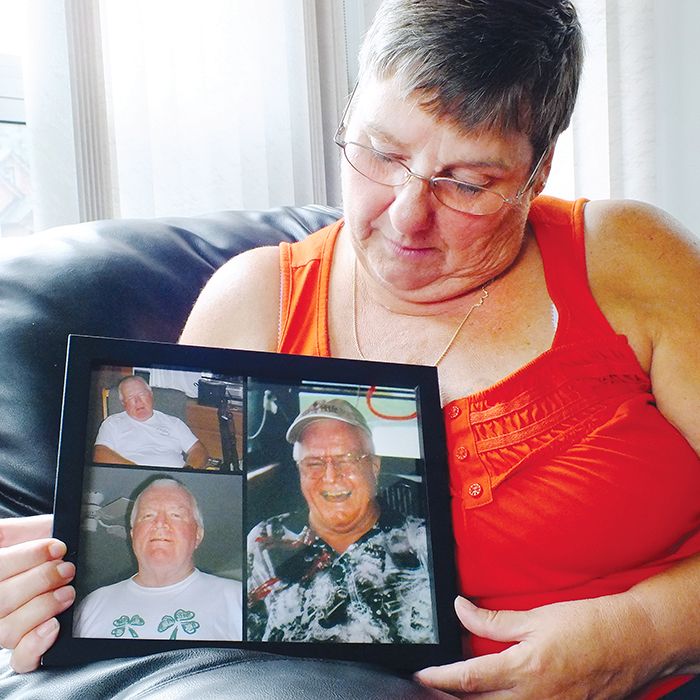 Editor's note: The Erie St. Clair Local Health Integration Network has approved $900,000 for a 10-bed hospice facility in Chatham-Kent. To find out the benefits of hospice care, we went to Sarnia, where the St. Joseph's Hospice has been operating since 2005.
 By Heather Wright/Special to The Voice
The last few years have not been easy for Cheryl Orrange.
Since 2011, she has lost four people who were dear to her to cancer. But Orrange says their deaths were made a little easier because of the care they received at the end of their lives while they were in hospice care.
The Sarnia woman has watched as her aunt, her sister, her husband and her 47-year-old stepson slipped away knowing they were as comfortable as possible and at peace. She said that's a gift they could not have received if they had been in a hospital or at home in their final days.
Orrange's family all died at St. Joseph's Hospice, one of just a handful of standalone end-of-life care facilities in this part of the province.
Orrange first walked through St. Joseph's doors when her aunt was dying in 2011. "I went in there as a friendly face to smile and make her happy; that's what I do," said Orrange. But she was pleasantly surprised to find there were already a lot of friendly, smiling faces and people willing to go the extra mile to make her aunt happy.
"One night she wanted something for dessert and they didn't have it and the one volunteer actually went out on his own time … to the store and bought it for her," she said.
It wasn't long before Orrange was back at the hospice bedside of her sister.
"The morning that she died, they called me at home and said, 'If you would like to spend some time with your sister, you should get here now.' It was 9 when they called, and she died at one in the afternoon. And they let us be alone with her."
Orrange would be back in less than a month to be with her husband as he died. By then, Orrange and her husband Charlie knew he wanted to die at the hospice. When Charlie was too ill to go to an appointment, the doctor arrived at their home.
"She came to the house and was talking to Charlie, and he said to me, 'How long do I have to wait to go to hospice?' and I said 'Whenever you want.' He wanted to go as soon as he could go."
Orrange said Charlie found the hospice more peaceful. "Near the end of his time at home, we had many, many nurses coming into the house … it got so that each one was saying something different. At the hospice, there was continuity. If I needed them, they would come. They were there, but we could be alone with him."
After Charlie died, the staff helped ease the grief with their own ritual. When someone in the house passes away, all the employees gather in the hall and have a brief ceremony before the body, lovingly wrapped in quilts, is taken to the funeral home. They tell the family they were honoured to care for their loved one.
"It was very touching at the time … you can see in their faces that they sincerely are glad they were able to take care of him. Everyone there – it is almost like they are family; a very, very caring family."
Just a day before Charlie died, Orrange's stepson was diagnosed with lung cancer. She found herself at the hospice again in a matter of months watching him die also.
After spending so much time at St. Joseph's, Orrange is a big proponent of the home.
"Some people want to die at home which I sometimes think is selfish … their family is going to have to live with the fact that they died in the bed in their home," she said. "The hospice is like a home. The pain management is fabulous. It is so comforting to know that they're not in pain in that last little while."
Dr. Glen Maddison is one of the driving forces behind the establishment of St. Joseph's Hospice in 2005. "I think one of the big benefits of hospice care is it is not institutional. While we have routines, we often break those routines. If you're in the hospital, that doesn't happen.
"For example, we have had people who have had bacon and eggs at three in the morning," he said. "We're always trying to accommodate people."
But he says the standard of care is the same as what a person would receive in the hospital.
"We see people in fairly desperate straits … not all the physicians in Sarnia are comfortable using all the (pain reduction) drugs, so we get them comfortable and then they can look at their life and the meaning of life," he said.
"It is very rewarding work. If you can bring someone from one extreme and bring them to peace and dignity in their final days, it's wonderful to do that," said Maddison.
When Sarnia's hospice first opened, people didn't really understand what happened there and thought it must be a depressing place to work. Now, more than 600 patients later, "people come to me and beg me to get their brother sister, father into hospice; it's a huge problem," Maddison said.
And as Chatham-Kent begins to establish its own end-of-life facility, Maddison said it is important to remember people make the difference.
"It's not about having nice things on the wall, it's about people. Clearly, you need people who know it is more than a job. You need to get the right people – including volunteers – who believe in this."
And while people who are dying receive the medical care, Orrange says hospice employees also are mindful of the family of the dying, making sure they have eaten, talking to them, walking them through death.
And there are after-death programs for spouses, children and friends of those who passed away. Orrange went through counseling six months after her husband's death through the hospice.
"As much as you think you can get through it on your own, it was good to do it. Mostly you learn you're not the only one who thinks they are having a heart attack today; that this is normal. This is grieving."
Comments
comments