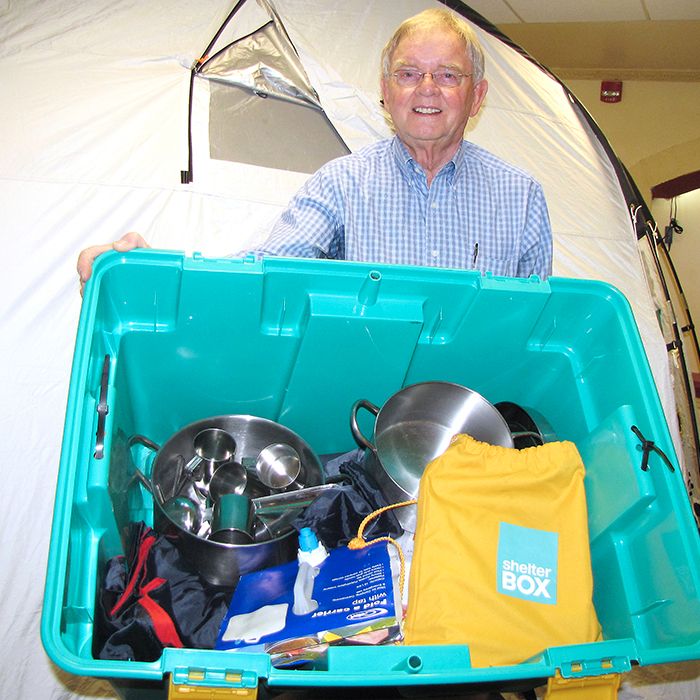 Rotary Clubs in Chatham-Kent have joined an ambitious campaign to help victims of the massive typhoon that has devastated the Philippines.
Hundreds of thousands of people are homeless and are without clean water or food in the aftermath of Typhoon Haiyan, the largest storm ever recorded to make landfall.
Rotarians have launched a fundraising campaign to buy emergency relief kits for the survivors.
Known as Shelter Boxes, the durable plastic boxes are packed with life-saving equipment, including a tent for 10 people, cooking equipment, a tool kit, mosquito nets, thermal fleece blankets and even a children's activity pack.
Each box goes to a family, giving the survivors shelter, water purification and other essentials.
The local campaign has set a goal of $100,000.
"I need to raise money for 100 boxes because a box is $1,000," said Keith Koke, Rotary shelter box ambassador for Chatham-Kent.
Koke displayed one of the boxes and set up a tent Wednesday at the Chatham Rotary Club's meeting at the Capitol Theatre.
He is hoping for a quick response because the federal government will match individual Canadian donations made by Dec 8.
"We shipped 35,000 boxes to Haiti and we fear that it may be just as bad," said Koke, comparing the disaster in the Philippines to the earthquake that struck Haiti in 2010.
In addition, a Chatham woman with ties to the Philippines is trying to rally her colleagues in the health and wellness community to raise money for the cause.
Genie Wigle, a yoga instructor, has family on the island of Cebu where the typhoon has destroyed lives.
Rotarian Fannie Vavoulis spoke at the meeting on behalf of Wigle who couldn't attend.
While Wigle's family is safe and sound, they have relayed to her the devastation of the storm.
Her cousins are working with a local church group to help distribute much-needed supplies for people to survive.
Vavoulis said Wigle has set a goal to raise $5,000 by Dec. 8.
Donations can be made online at www.shelterboxcanada.org.
More information about Shelter Box Canada is available at 1-855-875-4661.
The international Shelter Box program was started in 1999 by Tom Henderson, a UK Rotarian and a former search and rescue diver.
While food and medicine were immediately delivered to survivors of natural disasters, Henderson noticed that there was a void when it came to providing proper shelter and warmth.
Comments
comments