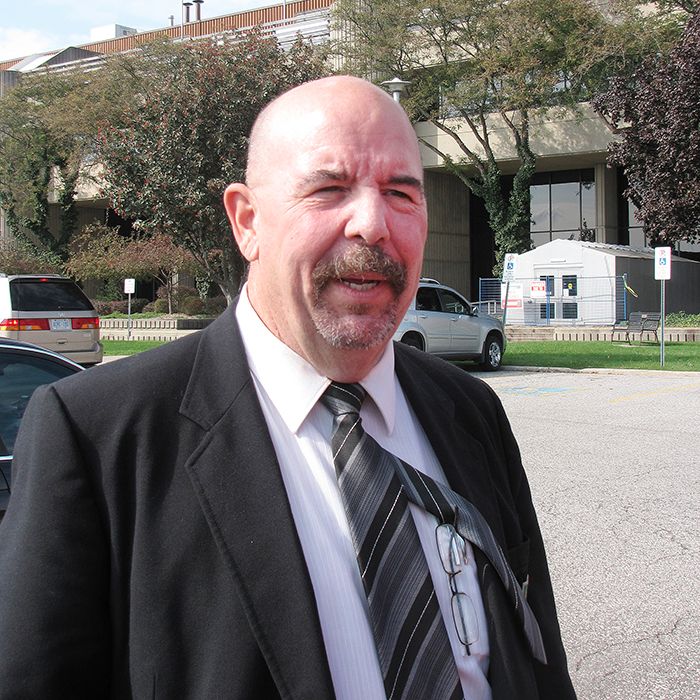 Former mayoral candidate Ian McLarty had his day in court on Friday in Chatham.
McLarty's conflict of interest claim against Chatham-Kent Mayor Randy Hope was heard by Ontario Superior Court Justice Henry Vogelsang, who is now writing his decision on the matter.
McLarty alleges the mayor was in violation of conflict of interest regulations when he voted in favour of a $1.3-million grant to St. Clair College June 24.
The college intends to use the funds to establish programs at the former Capitol Theatre Annex building, now owned by Apollo Property Management and Apollo General Contracting of Blenheim.
McLarty alleges that the mayor's daughter Melissa, the operations manager of Apollo General Contracting, will benefit from the grant.
The case boils down to the issue of whether or not a pecuniary interest is so remote or insignificant that it cannot be reasonably regarded as likely to influence a council member.
The crux of McLarty's argument is the actions of the mayor, and the circumstances surrounding the deal.
Describing the procedure as rushed, McLarty alleges that the mayor "adamantly" argued against looking into the "weeds" of the deal at a meeting, and that some other councillors complained that it was out of the ordinary.
"It's not normal procedure. No business plan was submitted, no legal agreement," McLarty told the court.
Under the deal, he claimed that if the college defaults, the municipality loses the $1.3 million.
"That's just more than enough to show the mayor acted in a manner other than how he would normally act, and the only connection is his daughter," argued McLarty.
"You're telling me that I should find on the balance of probability that the 1% interest in the property of Ms. Hope's employer, because of something done by the council, is going to mean she gets more than $16 an hour?" asked Justice Vogelsang.
Earlier, the court heard Apollo Property Management has a 99% interest in the annex and Apollo General Contracting has 1%.
McLarty identified Fred Neclario as the sole director and officer of both companies.
Mayor Hope's lawyer, David Thompson, argued that McLarty's case doesn't meet the thresholds for conflict of interest and disputed the claims about his client's actions.
"The suggestion that the mayor is behaving abnormally or something like that is ridiculous, if I may say so," said Thompson, noting that there was no evidence to that effect submitted by McLarty.
First, he argued that there is no pecuniary interest in the matter.
Thompson said council was voting on a staff recommendation to enter into negotiations between the municipality and St. Clair College, which if successful, will result in Chatham-Kent making a grant of up to $1.3 million to the college in advancing its interest to acquire the theatre annex.
"That's what was voted on," noted Thompson. "It wasn't a done deal. Money wasn't given away at that stage and it may not be ever given away because nobody knows if the deal is going to get done."
According to Thompson, the pecuniary interest is between the municipality and the college.
"At that stage, there is no dealing between the municipality and the owners of the annex," he added.
"So the strongest footing of an indirect pecuniary interest is that Melissa Hope works for a company that may eventually sell a property, which it owns, to somebody who got part of the money from Chatham-Kent."
Thompson also said there is no chance for the mayor's daughter to benefit financially if the company eventually sells the property to someone else.
"It's not just in the way the company works and it is not in the job she does. It makes no difference," said Thompson.
After hearing the evidence, Justice Vogelsang said he wanted to review McLarty's application for the hearing and the affidavits, and would give both parties his written decisions.
Mayor Hope declined to comment, preferring to wait until he sees the decision.
McLarty said he argued the case as best as he could, noting that it wasn't a personal vendetta against the mayor.
"If I was really after the mayor I would have hired counsel," said McLarty of presenting the case on his own. "The facts were spoken as I saw them. It's in the public realm and the public will get to make the decision on whether or not these funds are appropriate. And even if the decision goes against me, at least the public knows something about the deal. Under similar circumstances, I would definitely do it again."
Comments
comments