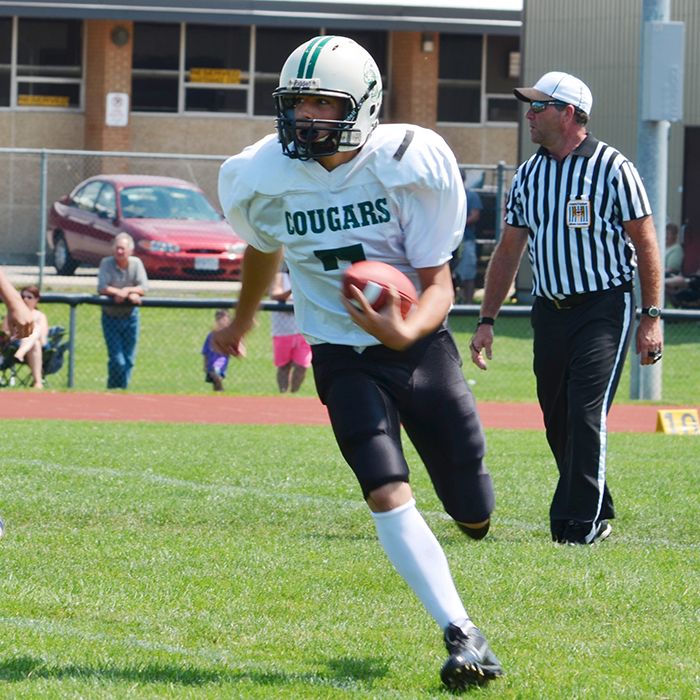 A trio of Chatham football players will represent the Team Ontario Selects this winter at the FBU National Championships in New Jersey, Ohio, and Texas. Chatham-Kent Cougars players Brandon Tatsu, Jonathan Cartier, and Nate Kreiger will each suit up for Team Ontario in their respective age groups, with training camps taking place this month
Tatsu, who is entering Grade 8 at Gregory Drive Public School, said he is excited to be competing at a higher level this winter against the best players from across North America.
"Making Team Ontario is one of the best feelings ever," said Tatsu. "It's going to take a lot of hard work, dedication and discipline. I am looking forward to the challenge of playing against the best kids in North America."
The bantam Cougars Defensive MVP this season, Tatsu also earned high praise from Cougars president Selwyn Jordan.
" Brandon Tatsu is a strong leader and is a great runner and hitter in football," explained Jordan. "He is a great athlete and is very versatile."
Cartier will also be playing for Team Ontario after starring for the peewee Chatham-Kent Cougars who won a bronze at the Ontario Football Conference Day of Champs this summer.
Playing in the Chatham-Kent Cougars minor program since Grade 4, Cartier is excited to challenge himself this winter, and extend his year after missing part of this season after suffering a broken collarbone.
"I am really looking forward to the challenge of competing against the best players in North America in the FBU National Championship Tournament," stated Cartier. "I welcome the opportunity to play on a team with other Ontario Football Conference standouts that I competed against throughout the summer."
"Jon Cartier is an excellent football player and he has a very strong work ethic," said Jordan, who also served as the offensive co-ordinator of Cartier's peewee team this season. "Jon enjoys competition and should flourish in that kind of environment."
The third Chatham-Kent Cougars standout selected to play for the Team Ontario Selects this winter, is junior varsity athlete Kreiger.  Kreiger, a multi-position player, served as the centre for the Cougars this summer, and also plays for the Chatham-Kent Secondary School Golden Hawks.
"Nate Kreiger is a tough football player with contact courage who is quick for his size," said Jordan. "Nate's football IQ is very high, and makes it like having another coach on the field."
With a half dozen Cougars alumni playing CIS University football this summer, the progress of these young athletes is another accolade Jordan and the Chatham-Kent Cougars organization are proud of.
"I am sure these players will represent Chatham-Kent well," said Jordan. "I am proud they had the confidence to try out and the skill and athleticism to make Team Ontario."
The FBU National Championships begin this December in New Jersey and Ohio, before culminating in San Antonio, Tex., in January.
Comments
comments