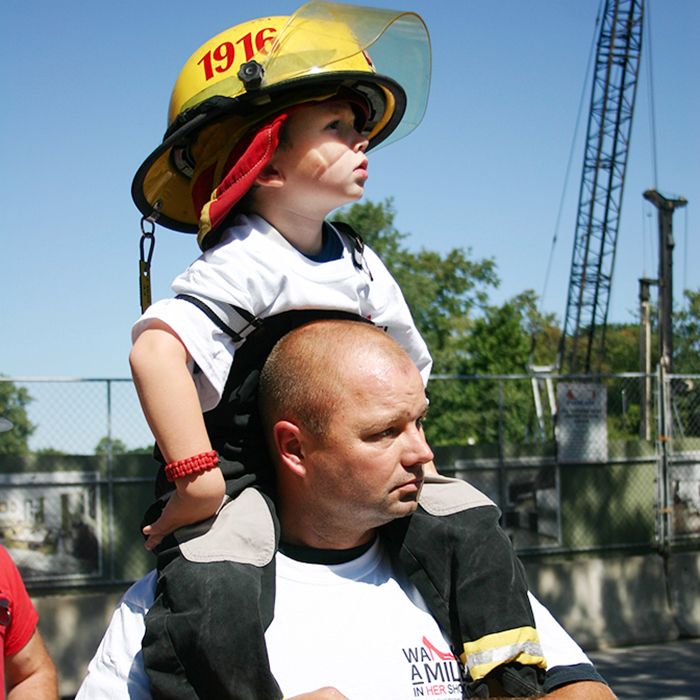 As I was walking hand-in-hand with my six-year-old daughter Daylia beside the Downtown Chatham Centre, en route to the King Street Commons, she asked me why I was about to put on a pair of red high heels.
I told her I was helping to raise funds for the Chatham-Kent Women's Centre and taking part in helping raise awareness to stop domestic violence against women and children.
After she climbed up to check out the rock fountain beside the mall, Daylia asked "What do they do at the Women's Centre, Daddy?"
I proceeded to explain to my daughter that women and children in our community go there if they are in trouble; maybe they have been hit or abused, and they can go there to be safe.
Daylia then asked, "Do you smell that, Dad? I think it's popcorn. Can we get some popcorn?"
We then proceeded to exchange my comfortable pair of sandals for a pair of size 11 red high heels that didn't have the nice foot grooves to which I'm accustomed. No, these shoes were stiff and pointy, and just did not have enough room for my toes to squeeze into.
"Looking good, Dad," Daylia said. "Can we get that popcorn now?"
After grabbing a bag, Daylia and I joined the 100 or so men on the mile-long walk through the streets of Chatham.
Volunteer firefighters from across Chatham-Kent, officers from the Chatham-Kent Police Service, local politicians, and other men from the community, with their spouses and children walking beside them showing their support, were all taking part.
After the walk was completed – blister-free for myself this year I might add – I caught up with Paolo Magliaro, who took part in the walk for the first time, alongside his family.
"It's not as bad as I thought it would be," he said, glancing towards his feet. "Great event, great to see the community supporting this type of thing. I had a lot of fun doing it. My son, my wife and my daughter were out, everybody had a great time."
When the pledges were tallied, $22,224.50 was raised for the Women's Centre from the fifth annual event.
"It's as important to raise the resources to keep the centre open, as it is to identify that domestic violence is a serious issue in our community," Hal Bushey, executive director for the Women's Centre, told me after the walk. "Last year the centre assisted over 1,400 women, over 1,600 children and two men who were impacted by domestic violence."
Bushey talked about one week this past August where three significant incidents of domestic violence were reported.
"A 68-year-old woman making a call … she was tired of being beaten," he said. "A passerby makes a 911 call because some guy is dragging his female partner down the sidewalk of a street by her hair. There are multiple ways we can help this issue … it's not just about resourcing, but it's also standing up and saying enough is enough."
As the women's shelter is not fully funded by the provincial government, Bushey said $72,000 needs to be raised this year to keep the centre operational.
As I sat and watched my daughter Daylia head up for a second bag of popcorn, I couldn't help but think of the name of the event – Walk A Mile In Her Shoes.
What if that "her" was my daughter someday?
What if she got into an abusive relationship?
What if a man hit her, belittled her, dragged her by her hair on a sidewalk or, God forbid, did something worse?
This is not something any parent wants to imagine or think about, however, it does happen right in own backyards.
That is why the work the Chatham-Kent Women's Centre is so essential and why fundraisers like the Walk A Mile are critical to raise funds and awareness.
"Want some popcorn, Dad?"
I smiled at my daughter, gave her a big squeeze, and grabbed a handful.