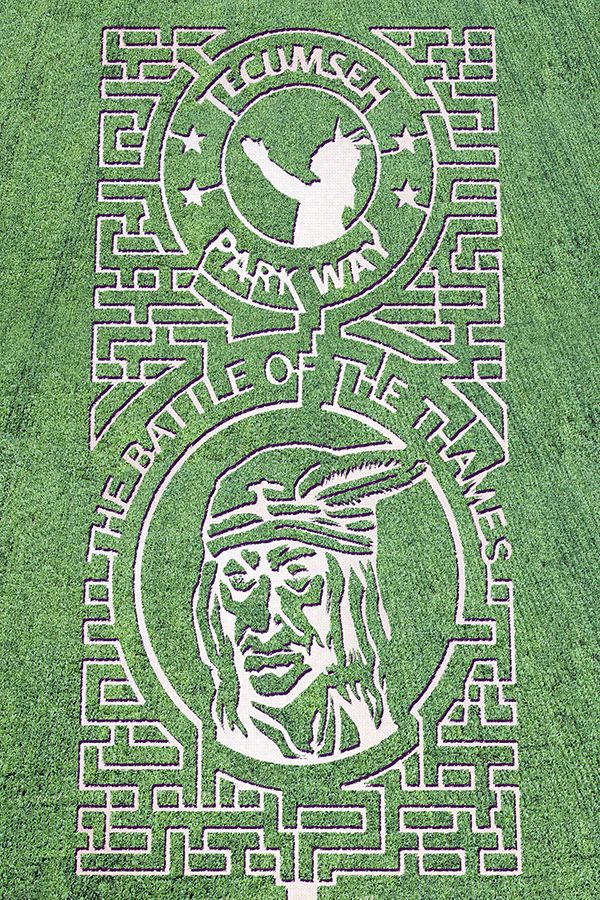 Even before television personality Rick Mercer went into the corn in 2008, I was a fan of the Thamesville Maize.
And why not? A 10-acre maze, one that changes every year, should entice folks with a curious nature; ones who want to explore and solve puzzles.
And shoot corn cannons.
My sister-in-law and I took our kids a couple of years ago and we had a blast. My plan to tackle the maze was to always turn left – that way you'd never double back and never get lost. But instead, we let the kids lead, something Ingrid Dieleman, one of the Thamesville Maize owners, said was smart.
"Kids are not as directionally challenged as adults. They just go, where we kind of put things in our way," she said. "When we have field trips in there, some of those kids just boogie and they're out."
We didn't exactly "boogie," but we certainly made good time, and had lots of laughs when we got turned around.
I'm thinking it would be fun to go back into the corn this year.
The Maize opened on the weekend, and will be in operation until Oct. 27. This year's pattern highlights the Battle of the Thames, appropriate, considering we're in the middle of bicentennial celebrations of the War of 1812, the 200th anniversary marking the Battle of the Thames is Oct. 5 of this year, and the Maize is in a field that's only a few kilometres from the battleground.
"It looks really good. It was a really, really difficult cut. We were concerned about the face," Dieleman said of the huge image of Tecumseh.
Despite all the unsettled weather this summer across Chatham-Kent, the corn for the maze is 10-feet tall, she said, ready for visitors.
Dieleman said the 10 acres is one big puzzle. But she added the maze is set up to allow people the option of just doing half the field, something most people ultimately do.
One reason is there are other attractions on the property.  When we went, I immediately fell in love with the corn cannon – where you use compressed air to launch a corncob at targets downrange. My nephew was hooked too.
But that's just one of the other items to check out on site. Dieleman said there's a new treat on hand, the Jumbo Jumper
She said the attraction is 35-feet-by-68-feet.
And with the Dielemans, it has become an end-of-day treat.
"It's a hoot. We jump every night," she said. "It's a huge air-filled pillow and people jump on it. It's a riot."
That great attitude is a big reason why the Thamesville Maize is enjoying its 13th year.
• Bruce Corcoran is the editor of The Chatham Voice. Contact the writer at bruce@chathamvoice.com.