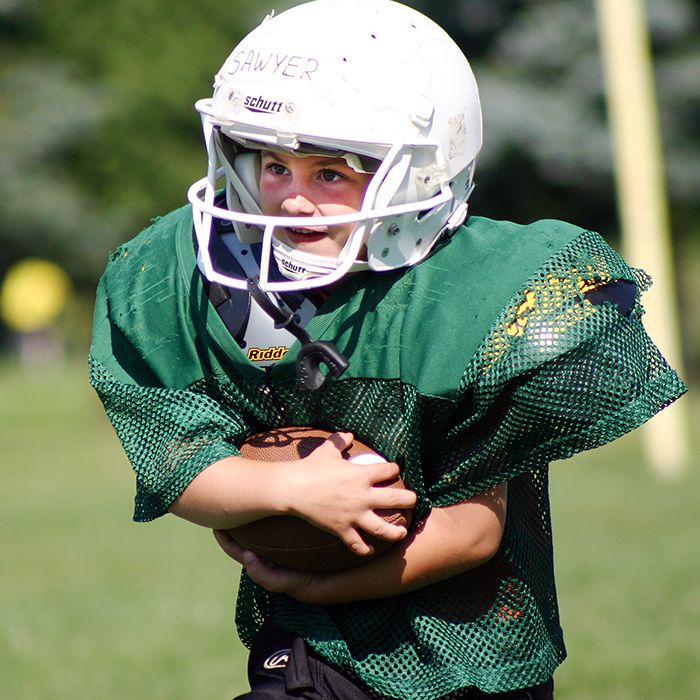 John McGregor Secondary School transformed into a gridiron day care this week in Chatham.
The Chatham-Kent Cougars Football program held its inaugural summer football day camp at the Chatham school. About 50 children took part in the week long camp, which ran from 8 a.m. until 4 p.m.
" I've always loved football," said camp participant and Pain Court resident Derek May, 12. "We start up, do some stretches, do a couple stations, have a nutrition break, do some more stuff, have lunch, and play some football games for the rest of the day.
Oil Springs resident Kaegan Fulton, 11, said he enjoyed the punt, pass and kick portion of the camp.
"We've been doing some stuff with blocking and tackling," he said. "Stuff with bags and kicking… and then there is stuff with your footwork… just the basics."
Teaching the children the basics of the sport was the goal for the organizers as well.
"For the most part this week has been about fundamentals," said Dean Creechan, the camp organizer. "We're giving the kids in Chatham the opportunity to experience football and have some fun."
Creechan said this was the first taste of football for some of the campers.
"About half of them have never played football before," he said. "We outfit them in gear. The Cougars provide all the equipment. We teach them from the ground up. The idea behind the Cougars program is to keep everything at its fundamentals. We want to teach a child to learn the game of football at a very young age, and we have kids out here that are five years old."
Creechan added many kids from the Cougars travel teams volunteered at the camp.
"They've been instrumental because they can take the kids and the kids really bond well with them," Creechan said. "They've all been a big help."
Chatham resident Bradley Wild, 14, said he was happy to help at the camp and gather some volunteer hours.
"We've been focusing on the little kids and helping the inexperienced kids get the basics about football," he said. "Proper stances, how to tackle, the fundamentals that you need to stay safe to play football. The Cougars focus a lot on safety. Most of the kids are having a lot of fun."
Creechan added he expects to hold another camp again next summer.
Comments
comments