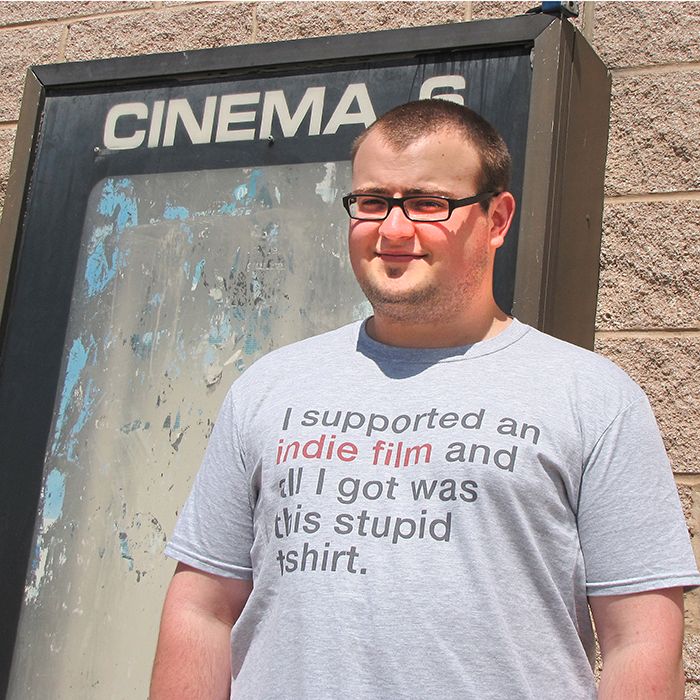 Conner Stirling would love to bring his passion for making movies to his hometown some day.
The fourth-year film student at Humber College in Toronto and IMAX intern knows there's a long road ahead, but he takes a big step when he returns to school next month.
Stirling's proposal for a short film was selected as one of five projects that will be produced this year.
Stirling, an Ursuline College grad, describes his film, "Fade and Change" as a psychological thriller.
It's about a man who can relive people's memories when he touches objects.
"Let's say you're drinking from a coffee mug and if he picked that up a few days later, he would be able to see you drinking that coffee, know exactly what you're thinking and what you are going to do next," said Stirling.
The character's ability to relive memories becomes a burden when he discovers that his wife has been murdered in their home.
"He continuously sees a man in the house from touching these objects but he can't see his face. So the film is his quest to find this man and deal with this in his own way," said Stirling wrote the script and will direct the 15-minute film.
His ultimate goal is to produce a film that is good enough to be shown at a number of film festivals.
"I think small, horror festivals will catch onto it and that's where I can start building my name," said Stirling.
In addition to making the movie, he is also on a mission to finance it.
Stirling figures it will take about $7,000 to finish the project.
"I'm definitely putting a lot of my own money into it," he noted. "I want to have something that I can say, 'This is my film, and here's what I'm going to do for my next film.'"
Stirling recently took his campaign to Indiegogo.com, a website that allows people to contribute to independent films.
Similar to public television campaigns, people can receive "thank you" gifts and recognition for their donations at different levels.
He hopes to raise $4,000 from the Internet campaign before it ends on Sept. 14.
His student movie and the fundraising are just the latest steps on the journey that started many years ago.
He has been involved in several local stage productions, including Theatre Kent shows and high school musicals at the Pines.
A few years ago, Stirling had his own business producing wedding videos with start-up funding from a government program for students.
But the pivotal moment came in 2006 when he saw "The Departed," directed by the legendary Martin Scorsese.
Too young at the time to see the R-rated flick, Stirling and some friends bought tickets for one movie at the old Cinema 6, but then snuck into see the Scorsese film, which won the Academy Award for Best Picture.
"That was the first time that I saw a movie that could end without a happy ending," Stirling recalled. "Artistically, I like to see movies about what real life is. I definitely want to shock people."
He also wants to make them laugh.
"There's a lot of comedy I would like to do because that's my background," said Stirling. "Even in high school, I was doing a lot of comedy sketches."
Another goal is to come back and bring film crews to shoot movies in Chatham-Kent.
Stirling thinks the area has great locations, including old farmhouses, adding that the flat land would be an ideal substitute for a movie set on the Prairies.
As a budding artist, he is also encouraged to see that C-K is hosting the Christian Life International Film Festival in Thamesville Sept. 21-22.
"If you have that annually, that this community is supporting film … that's great," said Stirling.
For more about his student film and the fundraising campaign, go to the website, www.indiegogo.com/projects/fade-change.
Comments
comments