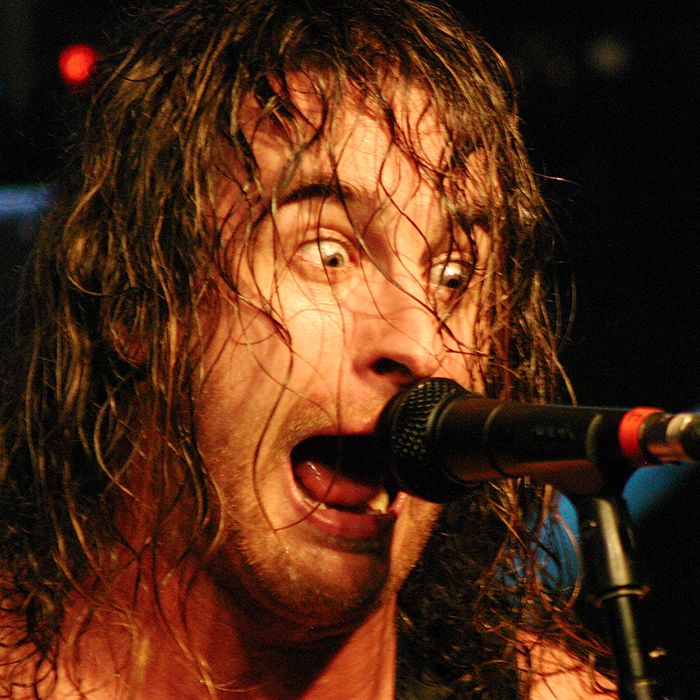 Loud would be an understatement, as Australian rockers Airbourne stopped in Chatham to play the Encore Bar and Nightspot in Chatham on Wednesday night.
Kids were dancing on tables, 68-year Donna McDermid of Chatham was rocking out with a beer in hand and everyone else in the packed venue were pumping their fists in the air when the high energy Aussies took the stage.
"You can listen to our music but coming to the show is a different experience," said David Roads, rhythm guitar player for Airbourne. "It's very high energy, we don't stand there and stare at our shoes when we play … it's really high energy for the hour and a half we play, non-stop."
Roads couldn't have previewed the show any better.
A fan in the front row waved the Australian flag in the air as the band tore into their song, "Raise The Flag." Half way through this tune, front man Joel O'Keeffe jumped off stage, ran through the crowd, climbed onto the bar and began playing a guitar solo, nearly slipping on the spilled drinks.
Airbourne just landed on North American soil last week, before embarking on a Canadian and U.S. tour, all in support of its new and third studio album, "Black Dog Barking."
With the amplifiers and speakers pounding out hardcore rock music, Tim Mielczarek, the owner of Encore Bar and Nightspot, had an ear-to-ear grin.
"For anyone that didn't get a ticket… they are missing one heck of a show," he said.
Starting the night off was Kitchener pop-punk trio Courage My Love. The band, comprised of twin sisters Mercedes (lead vocals and guitar) and Phoenix Arn Horn (drums), and Brandon Lockwood (bass guitar) played a short, energetic set, with most of the songs coming off its latest record, "The Becoming."
Orillia rockers Bleeker Ridge was the middle band, and played a series off its latest album, "Four."
Taylor Perkins, the front man for Bleeker Ridge, said it is an honour to open up for Airbourne.
"They bring this crazy energy every night," Perkins said. "When we're opening up, if we don't have energy, we kind of look like idiots. They taught us how to put on a good live show."
As many people's ears are still ringing after seeing the show … undoubtedly this wouldn't deter folks from flocking to Encore to see the band rock out once again.
• Aaron Hall is the editor of SWOMP.ca. Click to check out photo galleries of Airbourne, Courage My Love, and Bleeker Ridge.