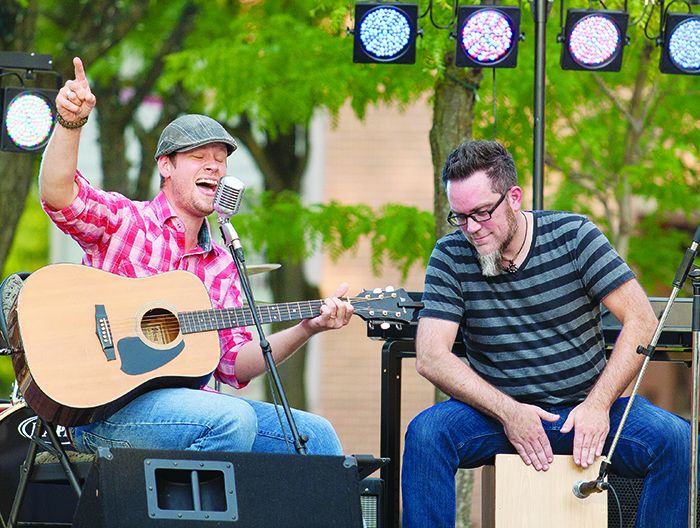 Singer Michael Joseph Green, left, and Marc Dalzell perform a set of songs for crowds outside of the Downtown Chatham Centre July 26 as part of a summer concert series. Sharing his Christian belief through song, Green also writes a portion of his material.
Anyone walking close to the Downtown Chatham Centre on Friday evening would have heard a lot of singing and clapping.
Singer and songwriter Michael Joseph Green performed for a crowd of listeners as part of the Concerts on the Commons series organized by Downtown Chatham Centre marketing director Jaclyn Gillier.
The free concerts kicked off Retrofest weekend in May as a way to showcase local talent and give them a performing platform.
Headliner Green and Cajun box player Marc Dalzell filled the downtown area outside of Sears with the sound of some of
Green's originals as well as covers songs.
Originating from Windsor, Green says his love of music stemmed from an early age.
"When I was little, I always wanted to sing," Green said.
"It's always a constant learning curve," he added.
Green first began playing the piano, but eventually grew apart from it when he picked up playing guitar.
"He's a gifted songwriter," said Dalzell.
"I think it's where my confidence is," added Green.
Beginning in 2003, Green says he became the singer some of the bands he was playing with by default, after they were never able to find a replacement.
After being in bands and currently performing solo and in a smaller group, Green explains it could be a tough job if dynamics didn't match up well.
"It can be really great if you are surrounded by the right guys with the right drive and if everybody wants the same thing – if that's not the case, it can be really frustrating and like throwing punches underwater," he said.
Today, Green pours his songwriting abilities and passion in performing a number of Christian-themed songs, something he explored more when he went solo.
Playing on his own allowed Green the freedom to become more forward with his lyrics and partake in Christian youth events.
When Dalzell read some of the lyrics from Green's heavy metal band in 2005, he recognized the Christian tones in it, reached out and their musical partnership began.
Since that time, Green has recorded songs and won the 2013 89.3 UCB Music Scan songwriting competition.
"My wife's brother kept calling her saying, 'I heard about this contest on the radio. Tell Mike to enter a song,'" Green said.
One of the prizes Green received was the chance to play during the Concert at the Commons event.
With possibilities and opportunities in the future for his music, Green is enjoying the now and spreading the good word.