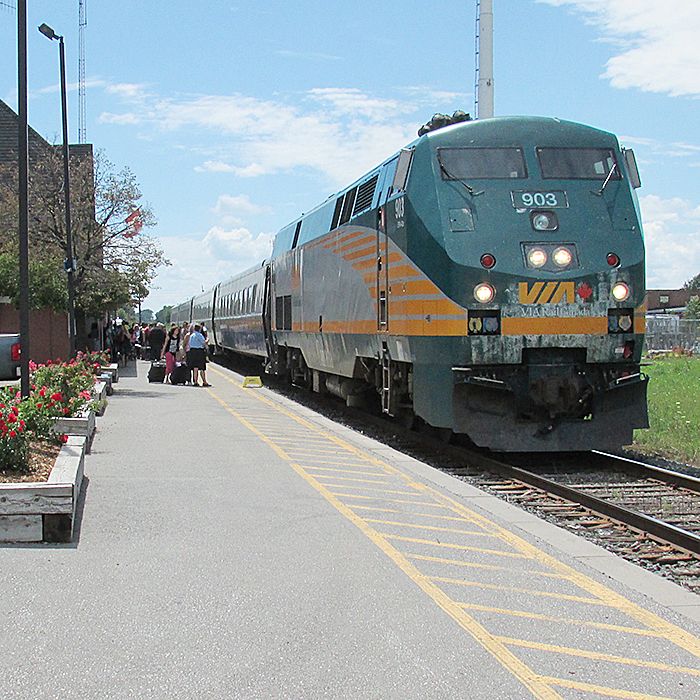 Most VIA Rail riders interviewed by The Chatham Voice Friday believe the railroad's elimination of staff at the Chatham station are just the next step in eventual closure here.
VIA announced this week it would lay off two full-time and one part-time staff Oct. 25 as part of a move, which will cut 50 jobs and leave 90% of VIA stations with no staff.
Chatham's T.J. Brown says he uses the train to travel to school. "I don't have a car and I have to believe the way they're cutting we won't even have service in a few years."
Maryanne Deluca of Leamington said she hopes the station doesn't close, but this isn't a good sign.
"We come here because we don't want to drive right downtown in Windsor. My daughter is heading off to school this fall and we planned on using the station a lot, but when it's not even worth staffing, you have to wonder how long it will be here."
Linda Penner of Leamington said, "It's a done deal. They'll close the station and there's nothing anyone can do about it. They (VIA) isn't out to get customers, they're out to save money. It's too bad."
James Simson of Chatham said he hates to see people lose their jobs.
"It's tough enough to find jobs in Chatham now" he said. "I don't know what their (VIA's) numbers are like, but this won't help things."
Diane VanDeMootele said she is concerned about people using the station with no staff there.
"People need to use washrooms and the older people need help. What happens when the ticket machine doesn't work?"
Elaine Landers of Leamington said the move was a "bummer. And you can quote me."
Mayor Randy Hope called the VIA decision a shortsighted move which further isolates the community.
"I've been fighting VIA cuts of one kind or another since the 1980s," he said. "We're trying to build a province here and these cuts only hamper that."
Hope said he's contacted Chatham-Kent Essex MP Dave Van Kesteren's office with his concerns but doesn't expect much.
"For some reason, the federal government not only won't realize the value of current service but refuses to look at the concept of high-speed rail which I believe would be invaluable," he said.
Julian Belanger, office manager in Van Kesteren's Chatham office, said the decision is one made by a Crown corporation and not by the government. Staff are referring all calls about changes at the Chatham station to Via Rail head office.
Diminished service only leads to further reductions in usage, a cycle which continues downward, Hope said.
"VIA should be cutting fares and increasing service to explore the upside of the business," he said. "Cutting one thing after another leads in only one direction."
Comments
comments