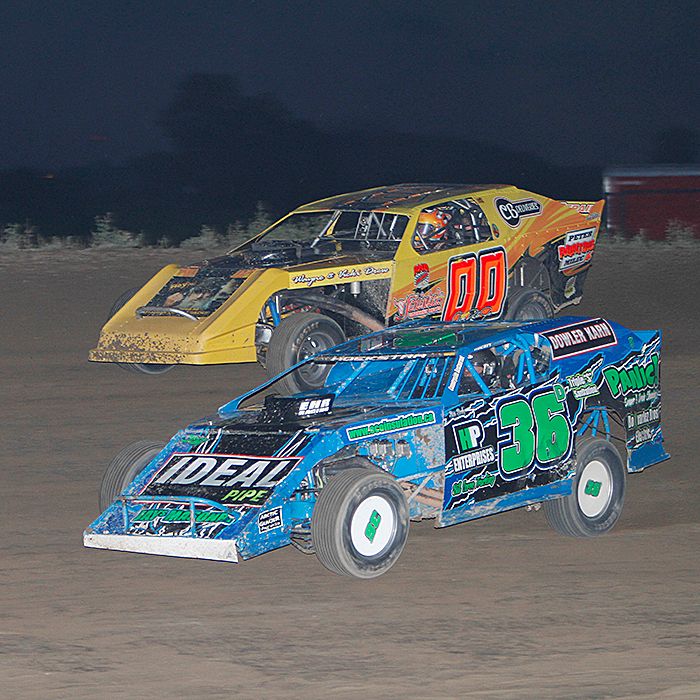 There were four familiar names in the Winner's Circle on Saturday – but one new face.
Chatham's Darryl Hoekstra won his second career feature race, leading 22 of the 25-lap Schinkels Gourmet Meats UMP Modifieds.
Hoekstra's father Eugene, a seven-time track champion and no stranger to the Winner's Circle, finished a season-high third.
Ridgetown's Dale Glassford won the Don Hendricks memorial race for the second year in a row. It was also Glassford's fourth straight feature win and fifth of the season in the Lube Tech/Great Canadian Oil Change UMP Late Models.
Cottam's Denis DeSerrano won his fifth Tirecraft Mini-Mods feature while Merlin's Steve Shaw picked up his fourth feature win in the Windride Transportation Sport Stocks.
When Hoekstra won his first career feature race at South Buxton Raceway last July, his father Eugene was in Ohio watching sprint cars.
Father had a much better view of son's second career feature win, with just one car between himself and the winner.
"It feels great to win one for the HR race team … and Dad finished third, so that's great," said Darryl.
"I think I should win the hard charger award tonight," Eugene quipped, as he started 12th and finished third.
Darryl Hoekstra started on the pole with Shrewsbury's Dale Jr., the two-time reigning series champion, on the outside and they ran one-two for the entire 25 laps.
Hoekstra led the first two laps and the final 20 after Dale Jr. led three laps.
"I like racing with Jimmy, he's a clean driver," Hoekstra said of the battle with Dale Jr.
The veteran Dale Jr., who enjoyed many battles with the elder Hoekstra in the 1980s and early '90s, was impressed by Darryl's run.
"He ran a good race, a clean race," Dale Jr. said. "He tried the bottom but it kept pushing up so he had to go to the top."
The 31-year-old Hoekstra posted four second-place finishes in the first nine features this season before finally earning his first win since the 2012 mid-season championship.
He moved atop the division standings after last week's races and padded his lead to 57 points over Chatham's Brian Speelman, who finished 18th.
Saturday was the first time Eugene has raced since the end of May when he gave up his car to his son to run for points after Darryl's car was severely damaged in a wreck.
"My goal is to win one of these and be the oldest feature winner here," said Eugene, who recently celebrated his 57th birthday. He returned to racing this season after retiring in the mid-90s.
Glassford continued his torrid streak by winning his second straight second straight Don Hendricks memorial race, his fourth straight feature win in the Lube Tech/Great Canadian Oil Change UMP Late Models.
"No, nothing like this," Glassford answered when asked if he has ever had a four-feature win streak in his career.
Saturday's win was extra special for Glassford, with all of Hendricks' family on hand to present him with the trophy for a second year in a row.
The Late Models will have another big race this Saturday with the first Gord DeWael memorial.
"It means a lot to all of us drivers to have the Hendricks family out here because we grew up watching Don and Gord (DeWael), " Glassford said of the former track champions who raced at South Buxton and the former Ridge Raceway in the 1970s and '80s.
"It's special to win a memorial race because you remember as fans watching them race for a lot of years."
Glassford started in the second row of the 15-lap feature and took the lead on lap five from Wallaceburg's Mike Lewis and never looked back.
Chatham's Brent Colby won the mad dash for second, beating Lewis by inches at the line. Points leader Gregg Haskell of Chatham was right behind in fourth.
Several additional drivers, including Blenheim's Andrew Reaume and Charing Cross's Chris Ross, are expected to be in the field, which will certainly threaten Glassford's winning streak.
For the second week in a row and third time this season, the Windride Transportation Sport Stocks feature race was reduced in laps because of a rash of accidents and cautions.
But don't ask Shaw what was going on – all of the mayhem happened well behind him.
Shaw was credited with leading all 15 laps en route to his fourth feature win of the season.
Although he led at the line every lap, he had his hands full early with points leader Eren Vanderiviere, who was bidding for a fifth straight feature win.
However, four caution flags in the first five laps spoiled what should have been a classic duel between the Merlin rivals.
Vanderiviere slipped coming out of turn two on lap six and fell back to fifth.
Two laps later, he dropped back to 11th, the last car on the lead lap, when he had to get on the brakes to avoid contact with Kingsville's Jim Ellis, who got hit from behind on the backstretch while running third.
Meanwhile, once Shaw took the lead, he used the whole track to fend off Grande Pointe's Tyler Lozon for several laps before pulling away at the end.
Lozon held on for a second-place finish while Harrow's Patrick Lajeunesse was third, Vanderiviere recovered for a fourth-place finish and Wallaceburg's Gary Vyse was fifth.
Vanderiviere won his heat and dash and was going for his third sweep in the past four race nights.
Shaw was only able to shave nine points off Vanderiviere's division lead to 47.
Last week, DeSerrano had a big smile on his face as he accepted his third-place trophy on mid-season championship night.
This week, he flashed the same smile after winning his fifth feature of the season in the Tirecraft Mini-Mods.
DeSerrano said he has another goal every Saturday night when he makes the trek from Cottam to South Buxton.
"Just try to bring the car home in one piece so we don't have a whole bunch of work to do during the week," he said with a smile.
DeSerrano won't have much to do with the car this week despite a wreck-fest behind him as the 20-lap feature was slowed by eight cautions. Only eight of the original 20 cars were still running when the checkered flew.
DeSerrano started in the third row and was locked in a tight battle with Dresden's Marshall Hereygers, who led the first 10 laps, along with Cottam's Rob Quick and Blenheim's Trevor Jones.
DeSerrano had just taken the lead on lap 11 when Hereygers and Quick got caught up in a five-car crash on the backstretch.
Blenheim drivers Trevor Jones, Elliot Wilton and Brett Hope finished behind DeSerrano, with Merlin's Steve Shaw Jr. fifth.
Pit Notes
• Darryl Hoekstra said he had a little extra incentive to win on Saturday for his sponsor Panic Sewer and Cleaning Services, which also sponsored and was the namesake on Don Hendricks' famous 09 Panic Late Model car back in the day. "We wanted to win this for Panic, they sponsor the race car and it was the Don Hendricks memorial night and Dennis Carey (Panic owner) was here," he said.
• There will be three other memorial races this Saturday in addition to the first Gord DeWael in the Late Models – the Brian Outhouse Modified, Cory Schives Mini-Mod and Len Bryden Sport Stocks. Fans are reminded of the special prices for this Saturday's memorial night – $10 adults; $8 seniors and teens (13-16), $5 kids (ages 6-12); and $15 pit admission  (ages 6 and over). Memorial night has already been rained out twice.
• Several racecars will be on display this Saturday, 10 a.m.-2 p.m. at Lube Tech on Richmond St.
• South Buxton's fifth annual Tractor Pull, featuring the Southwestern Ontario Tractor Pullers Association, is scheduled for Aug. 2. Modified and super modified tractors will be joined by two classes of pickup trucks, competing on the infield strip. There will be a beverage garden on the infield. Admission is $10 for ages 13 and over, $5 children 6-12 and kids 5-under are free.
Comments
comments