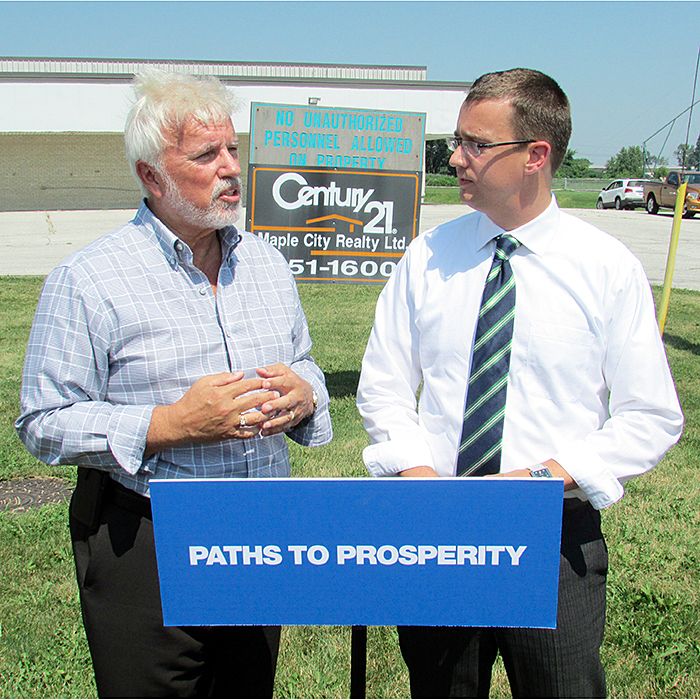 Two local Conservative MPPs attacked the provincial government Friday for its track record combating the loss of manufacturing jobs in Ontario.
MPPs Rick Nicholls and Monte McNaughton staged a press conference outside a partially vacant industrial building on Richmond Street in Chatham, calling out the Liberals over the loss of manufacturing jobs in the province and the padding of government positions.
"The premier calls the loss of manufacturing jobs a myth. We've lost 300,000 good, well-paying manufacturing jobs over the past 10 years while adding 300,000 government jobs," McNaughton, who represents Lambton-Kent-Middlesex, said. "Ontario needs a strong manufacturing sector."
McNaughton is also the Conservatives' critic for economic development, trade and employment.
Nicholls, MPP for Chatham-Kent Essex, said the province's greatest resource is skilled labour.
"We need to be bold and come up with ideas that will actually bring jobs back to Ontario," he said.
McNaughton criticized the government over what he called a lack of investment in employment in Ontario.
He said the PC plan would include setting a lower industrial power rate, developing a provincial workforce for the 21st century and offering tax credits for investment in Ontario start-up businesses.
"We need to do whatever we can to keep energy rates low," stressed Nicholls.
McNaughton said the cost of hydro in New York State is 4¢/kWh, while in Ontario, it is 11¢/kWh.
The MPPs released the 13th in a series of policy proposal papers from the Conservative party.
The Conservative MPPs say Chatham-Kent has 18 vacant industrial buildings, with more than 1-million square feet of empty floor space in those buildings.
Stuart McFadden, manager of business development for Chatham-Kent, said those numbers are accurate, but do not provide the whole economic development story here.
"The various Navistar buildings probably make up about 900,000 of the 1-million square-feet of vacant factory space," he said.
McFadden said his department has enjoyed recent success in filling empty industrial buildings in the municipality.
"Ten other buildings were vacant in 2010, but they're employing people in them now," McFadden said. "We have much to do, but while there are still 18 vacant buildings, some of them will not be redeveloped."
He said four or five of the 18 buildings are brownfields – industrial land that's vacant and has some degree of environmental contamination.  In order to use the property, a developer must purchase it and then pay to remediate the soil and remove contamination.
In regions with high property values, such as the Greater Toronto Area, this is generally not the issue, given the high resale potential for a property.
But in rural Ontario, the potential remediation costs can keep developers away.
"The province needs to address the imbalance of the legislation in rural and urban Ontario," McFadden said.