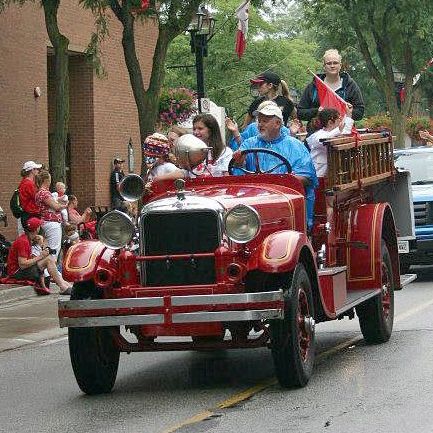 What a week – hundreds of emails, social media attaboys and general goodwill from folks all over the community. It really does make us feel good, but then came the dreaded
Typo of the week
In the photo information about my adventures in the Canada D'eh parade, I was listed as driving a – wait for it – a fire fruck   (damn media).
Of course it could have been a lot worse – if the "r" was left out, we would have made national news and the U.S. late-night talk shows.
In my defence, I did drive it like a fire fruck.
Rumours of the week
First rumour
The money behind the Chatham Voice is from:
A) A French Canadian electronic media magnate (not that one – a local guy);
B) Mayoral candidate Ian McClarty.
Neither one is true – CK Media owns the Chatham Voice and Bruce and Jim own CK media.
If anyone tells you differently, they're a big fat liar – or a skinny liar depending on the circumstances. You pick.
Second rumour
We're being sold to a huge media conglomerate (again, not that one)
This is also not true.
We did have a truck pull up to our office last week, but it had a debit machine in it, not bags of gold.
We're kind of flattered that someone thinks we're that good after one edition, but no one's offered us enough to buy any fire frucks.