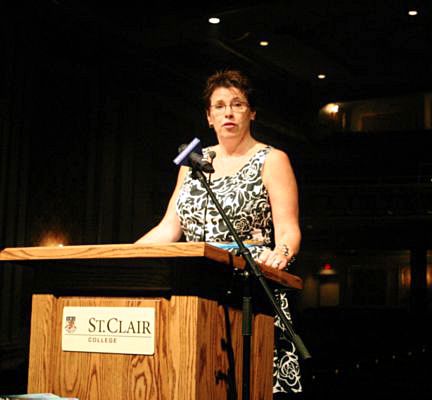 From Juno-award winning musicians, to concerts for the kids, the 2013-'14 season at the St. Clair College Capitol Theatre has something for everyone.
That is the hope for Lesley Grand, manager of the downtown Chatham venue, after she and the Capitol staff revealed the lineup during an event on the theatre stage on Tuesday, July 8.
"We've tried really hard to create a season that everyone will find something, or one or two or three or four shows, that they will want to go to," Grand said. "We've been working on the release of the '13-'14 season for a long time. It's like having a baby. So many months go into the work, now it's finally here. I'm excited that it is out in the public and I don't have to keep it secret anymore."
The season features different categories of shows, including: music, theatre, family, comedy and speaker. There is also a list of packages available for people to save some cash.
"We're doing some new things this year," Grand said. "We've created a new series called the 'On-Stage Series.' There are four artists in this series. The audience will come through the stage door and actually sit on stage with the artist, kind of cabaret-style seating and they'll get to watch the show looking out into the auditorium, so it's kind of a cool thing."
The musical line-up is led by Juno- award winning and nominated artists such as Serena Ryder, Sloan, and Rose Cousins.
"Serena Ryder is one of my all-time favourites," Grand said. "When I heard she was touring through Ontario, I just had to have her here. So we are really excited to present Serena Ryder in October."
Local guitarist Tom Lockwood will grace the Capitol Theatre stage once again for the second annual Bluesfest in the spring of 2014.
People who love to laugh will have some opportunities as Rick Mercer and Jim Belushi top the list of comedians making stops in Chatham.
"Jim Belushi is one of my favourite comedians," Grand said. "I'm really excited to get Jim to come in January."
Tickets for most of the shows are now available at the Capitol Theatre box office, by calling 519-354-8338 or toll-free 1-866-807-7770, or by logging on to their updated website at stclaircollegecapitoltheatre.com.
Comments
comments