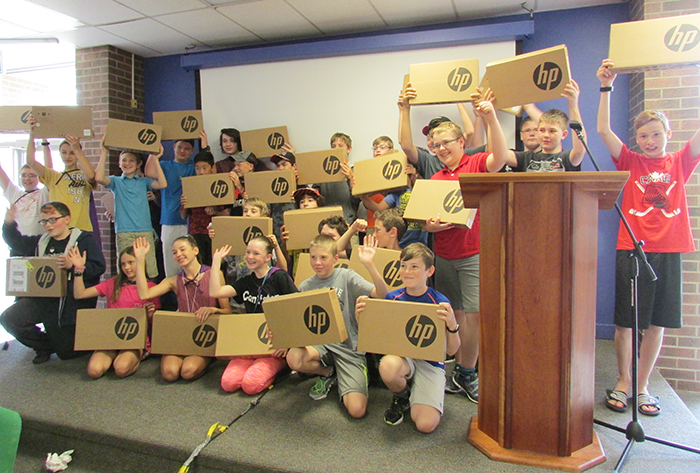 The staff and students at Indian Creek Public School who won first place in the Microsoft Canada-wide contest need to stand up and take a bow.
Led by teacher Colin Pattison, 100 students took part in the two-month project using Minecraft Education Edition and digital lesson plans from Microsoft education programs to build detailed settlements that highlighted the contributions of the Indigenous people to Canada's history.
The project checks all the boxes that engage youth in a fun, positive way not just in Canada's history, but in how technology and gaming can be powerful learning tools.
The school is now the proud owner of 28 Pro-G3 laptops donated by HP, which come fully loaded with Windows 10 and can use the Minecraft Education Edition. Getting that kind of up-to-date hardware is an incredible gift in a climate where schools are often struggling to keep two computers in a classroom going.
From intermediate students who entered from across Canada, Indian Creek came in first and wowed the Microsoft education team with the collaboration between teachers and students. If that doesn't make you want to bust your buttons with pride, nothing will. The students' project will also be part of Microsoft's Canada 150 celebration promotion.
What is even more incredible is the conclusion students' reached about the relationship between early settlers and the Indigenous population. That part of our past wasn't pretty, it wasn't fair and it doesn't paint Canada in a good light. The students don't hide the struggle and the betrayal because it is a part of our history, warts and all.
And when our youth can study our past and learn from the mistakes made in the past, it bodes well for a better future, better understanding and better true partnerships.
Congratulations to Pattison, his fellow teachers and all the students at Indian Creek Public School who took part in the project. Microsoft gave you an opportunity and you jumped all over it and knocked it out of the park.
Now you get to reap the reward.
Comments
comments
« 2018 IPM committee kicks off year of boots on the ground New leaders for Ursuline Sisters »