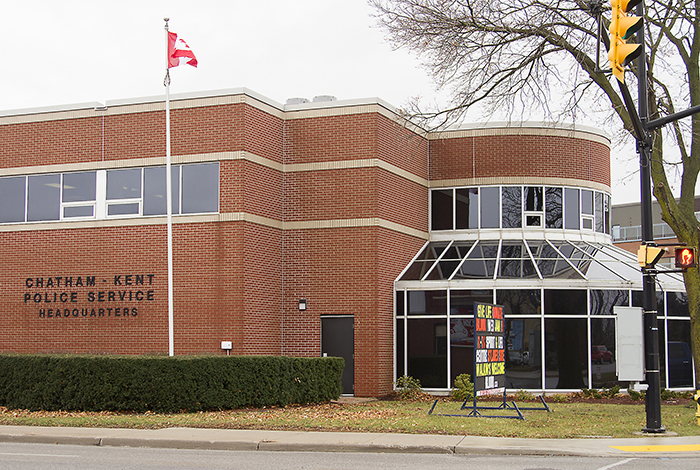 By Pam Wright
Local Journalism Initiative Reporter
Over the next four years, the Chatham-Kent Police Service is hoping to add 43 new faces to its roster.
In 2024, the request is for 16 new employees including nine sworn officers and seven civilians, five of whom are new emergency communication officers.
All told, next year's police budget is set at around $36 million. It's a $1 million increase over 2023, accounting for a proposed 0.8 per cent increase of Chatham-Kent's overall budget.
Those are the numbers Chatham-Kent council will consider when deliberating the 2024-27 multi-year budget.
In a special media conference last week, CKPS Chief Gary Conn told reporters the push to add more personnel is supported by an independent audit by the Toronto firm Deloitte. Conducted earlier this year, the four-month probe found the CKPS to be understaffed recommending that it hire 48 new personnel by 2027.
However, CKPS senior staff whittled the number down to 43, Conn said.
Based on the independent audit, at 142 officers per 100,000 population, Chatham-Kent's policing ratio is "extremely low." The provincial average in Ontario is 173 officers per 100,000, while the Canadian average is 183 per 100,000.
CKPS currently has 176 sworn members, however, not all are available as 22 officers are off on leave due to long-term disability or illness.
That makes staffing tough.
A minimum of 14 officers are required to be on the job 24-7 Sunday to Wednesday, and 15 from Thursday to Saturday. But that's been difficult to achieve, necessitating the use of overtime to fill the gaps.
Both Conn and Deputy Chief Kirk Earley say that's not sustainable in the long term and the shortfall has resulted in "reactive" rather than proactive policing.
Earley, who acted as the department's liaison with Deloitte, said the CKPS needs more officers.
"We are running on what I would refer to bare bones," Earley said. "We are a completely reactive service at this time. Some of the stats gathered by Deloitte show that 53 per cent of the time we are usually at minimum or below. We require overtime to augment our zones."
The number of calls is also on the rise. When the service was formed 25 years ago, it received around 17,000 calls per year and that has climbed to 80,000 in 2022. Plus, the calls have become increasingly complex, leading police to a "default position" where they have to address problems related to poverty, addiction and mental health. A total of 80 per cent of calls relate to social issues and 20 per cent are criminal.
According to Earley, senior staff have been discussing the need to add officers for some time, and the pandemic led to further delays.
"Many of the things we wanted to do were put on the backburner," Earley explained.
If the multi-year budget is approved, an additional 16 staff will he hired in 2025. Six will be added in 2026 and another five in 2027.
Across Ontario, the cost of policing is ballooning. Sarnia Police Service recently approved a 10-per-cent budget increase; Halton Region police saw a 9.6-per-cent hike, while police in Sudbury are looking at 14.3-per-cent rise.
If C-K council approves the new hires, officers will be added to each of the service's major units. It will also facilitate the creation of a new training and recruiting unit, something that's fallen on the desks of multiple officers for years.
Conn is expected to officially present the budget to council Nov. 28, but CKPS put out the audit report early, as there is a lot of material to digest. It can be found on the municipality's website.
"It provides an opportunity for council to wrap their head around it, as it is a lot of information," Conn said.
The budget increase averages out to 6.95 per cent annually.