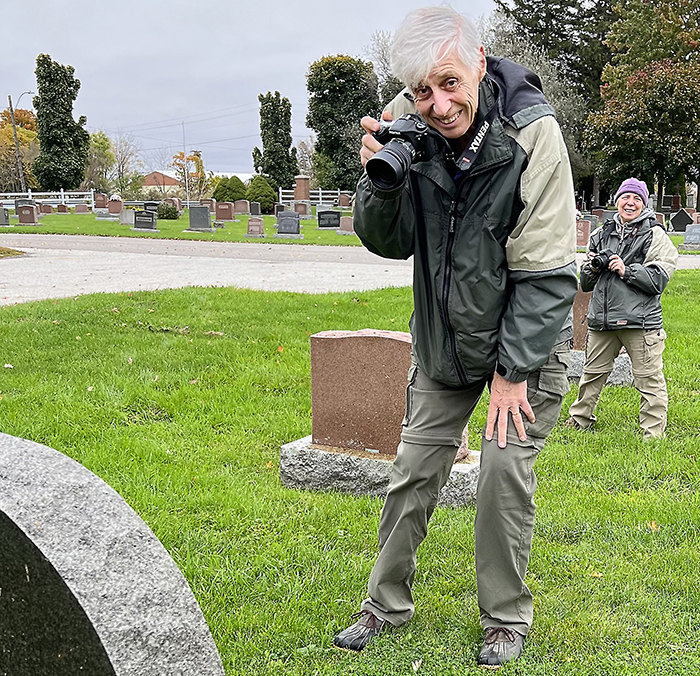 By Pam Wright
Local Journalism Initiative Reporter
Ian and Lyne Trott don't get spooked in cemeteries.
Instead, the pair sees them as important keys to the past. Together, the husband-and-wife duo have photographed more than 9,000 tombstones in Ontario, submitting their results to the Findagrave.com website.
The popular online source then shares the information with other genealogical websites that help people from around the world delve into their family's origin.
Their so-called "unusual hobby" allows the intrepid couple to combine their love of history with their passion for photography, while providing a service that helps people map out their life stories.
Ian, who is originally from the United Kingdom, said he and Lyne started exploring their genealogy some 20 years ago. They started shooting photos for Findagrave in 2017, and their interest grew from there.
The couple learned that Findagrave relies on volunteers who upload their photos at no cost. The website then shares the information with other genealogical sites.
Over the years, they have received dozens of "thank yous" from people seeking ancestral information.
Before getting involved with Findagrave, Ian said he wasn't keen on going to cemeteries.
"I didn't like to go to cemeteries and I didn't want to walk on graves," he explained.
"It was eerie to step on the ground, knowing there were coffins under our feet," Lyne added. "Eventually I got used to the idea and touched the cold stones, whispering the names in my head. We were there to make sure they were never forgotten."
Now they realize that tombstones are important links that allow people to find out who their descendants are and "what it all means.
"When you go far enough back, you may find out you're related to amazing people," Ian explained
That's been the case for the Quebec-born Lyne, who discovered through her paternal French roots, that both Harriet Tubman and William the Conqueror are part of her family tree.
Ian comes from a true blue-blood background and his DNA indicates he is 97-per-cent English.
The Trotts, who live in Chatham, returned to the municipality last year after living in northern Ontario. They have C-K ties as they owned the Pet-Valu store in Wallaceburg for seven years, before selling it in 2000.
Currently, the couple can be found in the Dresden cemetery most Saturday mornings, shooting photos of its estimated 3,000 memorials. When they finish up there, they plan to move onto Riverview Cemetery in Wallaceburg, which has 10,000 graves. A total of 78 per cent of the tombstones located there have already been documented.
So far in Chatham-Kent, the cemeteries they've taken pictures at include Bethel (River Line); Gosnell (Highgate); Callander Union (East Ferris); Christ Church Anglican (Ouvry); the family-owned Crawford Cemetery; Stewart (Merlin); Pardoville Union; St. Peter's Roman Catholic (Tilbury); St. Francis Xavier (Tilbury); Van Horne (Vosberg); St. Phillipe (Grand Pointe); Jack's Hill (Bear Line) and the Dresden and Merlin cemeteries.
The couple has no plans on stopping their hobby, but said they usually pause the project in winter weather.
"This is going to be our passion project on into retirement," Lyne said. "Those who live far away really appreciate it."
Ian echoes her statement.
"I want to try and keep helping people piece together their history," he said.