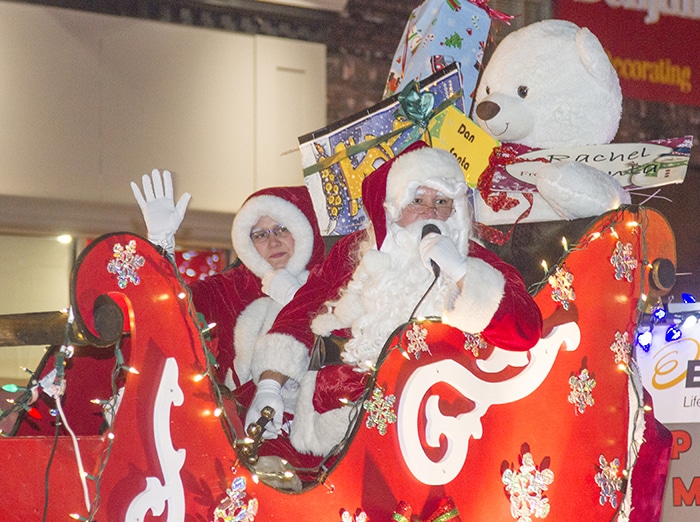 By Pam Wright
Local Journalism Initiative Reporter
Get ready for Elf on a Shelf in downtown Chatham.
That's the theme of this year's Santa Claus parade coming Nov. 17.
Helping the less fortunate is part of the event.
Those coming out to watch the parade are invited to bring a donation of toys or food which will be distributed by Chatham Goodfellows and the Salvation Army Chatham-Kent. Volunteers from FreeHelpCK will assist by collecting donations.
At the head of the procession, municipal councillors with grocery carts will be doing their part to collect donations, along with C-K firefighters, who will be carrying boots to collect monetary gifts. Santa, the star of the show and assisted by Enbridge, will also be taking donations at the tail end of the parade.
Historic Downtown Chatham BIA office and project manager Connie Beneteau said there's plenty to see and do at the event that will reach the downtown core at 7 p.m.
One of the fun features are the talking trees at the Capitol Theatre. According to Beneteau, the talking and singing trees named "Spruce Springsteen" and "Forrest Stump" will be on hand to amuse guests.
"You will be able to hear them from the street or turn your radio to 104.7," Beneteau said.
The parade will wind up at the W.I.S.H. Centre where hot chocolate, treats, pizza and visits with Santa will be available.
"The kids can see Santa and tell him what they want for Christmas, and get a bag of goodies," she said.
Guests are advised to bring a lawn chair and dress appropriately, Beneteau noted, adding that bringing a blanket is a good idea.
Representatives from Tasty Treats will be on hand selling cotton candy and candy apples. Face painting will take place at from 5:30 p.m. to 6:30 p.m. at TASTE, located at 105 King St. W.
OG Pizza Guys will be offering a slice of pizza for everyone while it lasts.