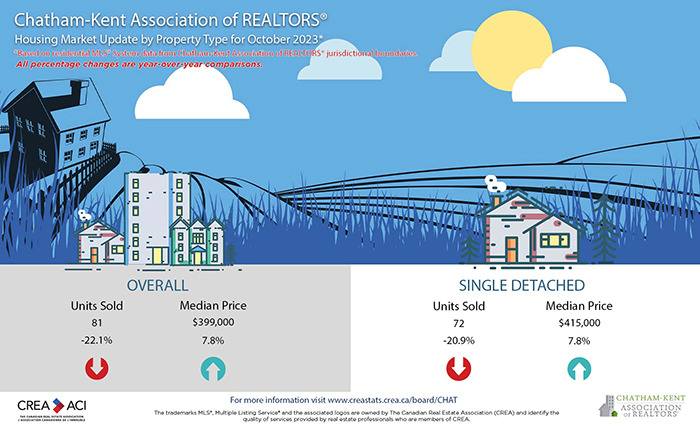 After two straight months of stronger sales than the same time in 2022, the local real estate market turned ice cold in October.
Sales totalled just 81 units, which was down more than 22 per cent from the same month in 2022.
The more telling figures were the five- and ten-year averages for the tenth month of the year, which are 35.4 and 31.5 per cent better than what we saw in October.
Over the first ten months of 2023, sales were down as compared to 2022, however, not as sharply as the October-to-October comparison. Sales in 2023 were nearly 14 per cent below the same period in 2022.
Matt Bechard, president of the Chatham-Kent Association of Realtors (CKAR), said the decline caught everyone off guard.
"Sales activity posted a sharp and unexpected drop in October, something we're waiting to see whether this is the beginning of a protracted downturn or just a one-off," he said in a media release.
What did sell went for more than what homes sold for in October of last year. The average price of homes sold in October 2023 was $406,636, up modestly by nearly four per cent from October 2022.
One thing the slow sales month did was help pad inventory levels, Bechard said.
"New listings are trending near record levels and overall inventories have risen well above their record lows but still below historical norms," he said. Along with average price levels that have come down from last year's peak and a market balance that is tilted slightly in favour of buyers, conditions are welcoming to potential home seekers once they decide to come off the sidelines."
Active residential listings numbered 383 units on the market at the end of October, nearly 50-per-cent higher than the five year average for the month of October.