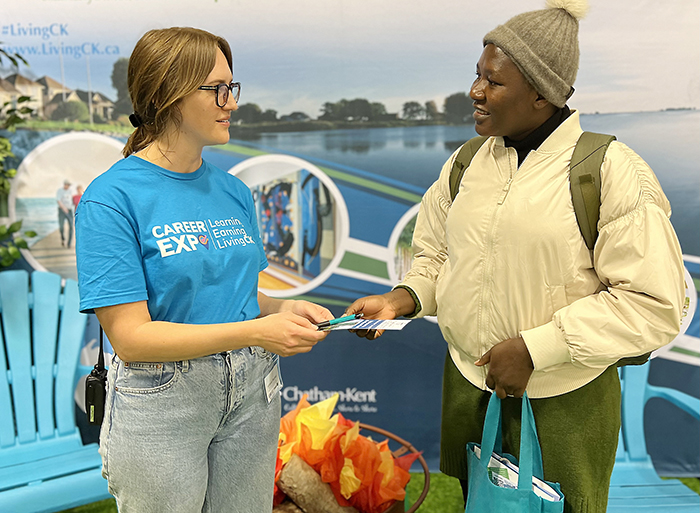 By Pam Wright
Local Journalism Initiative Reporter
Rita Nacoulma is looking for work.
The 29-year-old native of Burkina Faso in Africa was one of hundreds of students and job seekers who poured into Chatham's Bradley Centre Oct. 18 to attend the first Learning, Earning and Living CK Career Expo and Job Fair.
The French-speaking new Canadian, who immigrated to Montreal four years ago, moved to Chatham-Kent earlier this year because she wants to learn English and find a rewarding career.
After enrolling in the English program at College Boreal, Nacoulma took a chance and moved to the municipality one month ago.
"I want to get a job," said the soft-spoken young woman, noting that without English skills, it's hard to find work.
In Africa, Nacoulma said she worked in sales and marketing at Nestle. After coming to Canada, she has worked in Quebec as a hotel housekeeper, a personal support worker and a server at Tim Hortons.
"Any help I can get, I will be very happy," Nacoulma said.
According to Victoria Bodnar, C-K's manager of community attraction and promotion, Nacoulma was among a number of new Canadians attending the expo, which saw 52 employers set up booths to showcase a wide range of job prospects in the municipality.
Skilled trades, health care, manufacturing, construction and the agriculture sector are all actively recruiting for present and future needs, Bodnar stated, adding many professions – such as law – are seeking employees as well.
"There's more opportunity than you might think," Bodnar stressed, noting Chatham-Kent needs to add some 18,500 workers to the local economy by 2030.
"Our projected job growth is outpacing our population growth, Bodnar said. "We're trying to build a talent pipeline to fill retirement vacancies and jobs created by an increase in the number of residents."
Bodnar said the municipality has been working with the Newcomer Centre of Peel in Brampton, and 37 new Canadians came by bus to the expo to see what Chatham-Kent has to offer.
Exposing local youth to area job prospects is another important aspect of attracting and retaining future workers, Bodnar said.
"There's a lot of enthusiasm from employers and from local students," she said, adding the interactive experience exposes students to career paths in their home community they may not have considered otherwise.
 "We them to feel connected and to feel at home in Chatham-Kent," Bodnar said.
The career expo and associated webinars were made possible thanks to $150,000 in funding from Ontario's Ministry of Agriculture, Food and Rural Affairs.
"We're grateful for the funding," Bodnar added.