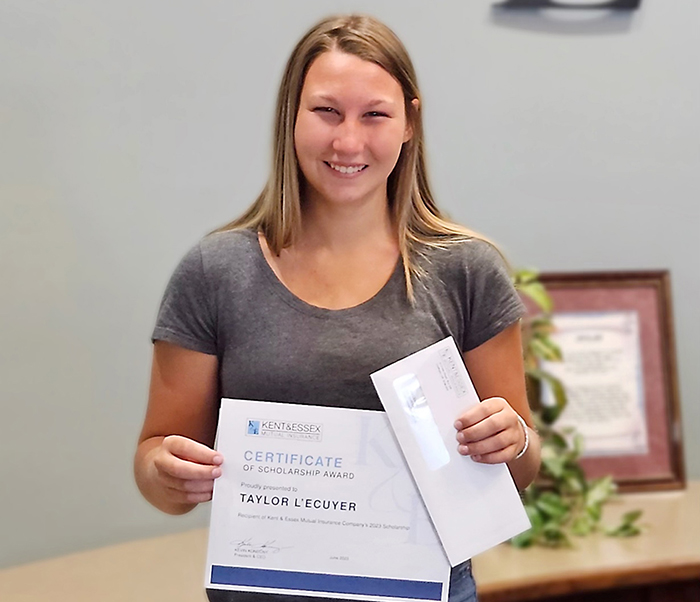 Dover Centre's Taylor L'Ecuyer received a helping hand for her educational expenses, thanks to Kent & Essex Mutual Insurance.
L'Ecuyer was one of five students in southwestern Ontario to receive a $1,000 scholarship from Kent & Essex this summer.
The five recipients penned essays on how vehicle owners can best protect themselves from auto theft, something that is on the rise.
"In Ontario, a car is stolen every 48 minutes. From 2014 to 2021, there has been a 72-per-cent increase in auto theft within the province. Thieves are becoming more and more creative in targeting and stealing vehicles," said Kevin Konecny, president and CEO of Kent & Esses, in a media release. "While auto theft is not new, the frequency of these incidents is fast becoming a major and evolving threat to the insurance industry. Tackling these thefts and protecting vehicles requires a collective effort from insurance companies and policyholders. All of our scholarship recipients have produced great ideas through their essays on the crucial roles the insurance companies and policyholders can play in reducing auto theft risk."
L'Ecuyer, who also received recommendation from high school administration at Ecole Secondaire du Pain Court, said she appreciates the financial support.
"I am very proud to be a recipient of this generous scholarship as it gives me the opportunity to focus more on my education and less on the financial burden that follows the path of my post secondary journey," she said.
Kent & Essex has been awarding scholarships to graduating high school seniors for more than a decade, amounting to more than $50,000 through this program.