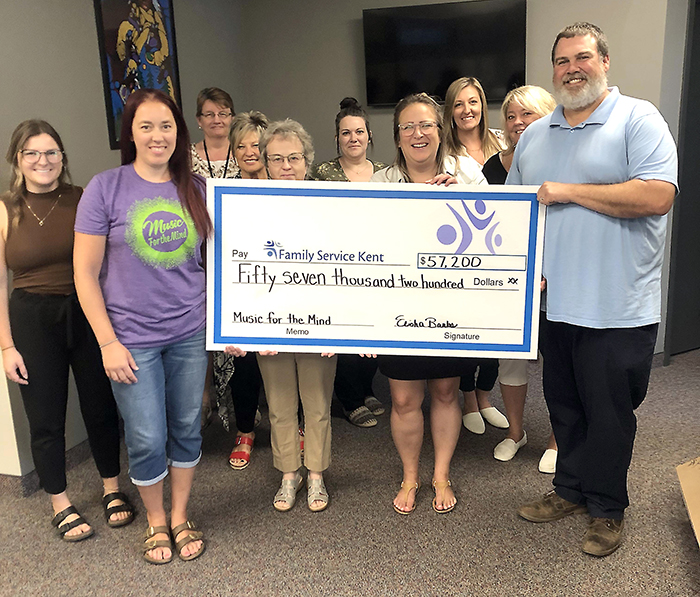 When Music for the Mind creator Elisha Banks switched affiliations, she did not know how well the new fundraising effort would go.
A goal of $50,000 had her worried she'd let the people at Family Service Kent and the KIDS Team Program, the recipients for the past year's efforts, down.
"I was nervous. You set a goal and always remain hopeful," she said.
However, the giving nature of the people of Chatham-Kent shone through and Music for the Mind went well above the target, raising $57,200.
"I was beyond excited when the time came and I saw we exceeded it," Banks said of the goal. "This community is filled with some of the most generous people and businesses, who are always ready to support."
Music for the Mind hosted 14 fundraising events, ranging from their two big concerts, to a beach volleyball tournament, an online Christmas auction, sign painting, fundraising dinners and their year-round bottle and can drive.
Changing focus after raising money for the Foundation for the Chatham-Kent Health Alliance for two years wasn't an easy move for Banks. She had raised in excess of $91,000 to help patients on the mental health floor at the hospital, but had a serious disagreement with how the funds were handled, and the flow of information to her organization from the foundation.
The relationship deteriorated to the point where the foundation threatened to sue Banks.
That left Banks seeking other ways to help people with mental health issues. But the void was quickly filled and now Family Service Kent will use half of the funds raised to provide minimal-fee or free counselling for people aged six and older. The KIDS Team Program will utilize its share to cover the costs of psychiatric assessments for children up to the age of 18 whose families can't afford to cover the costs. Banks said fees can cost anywhere from $2,000 to $4,000 per assessment. A child could require multiple assessments over their educational career.
As for the next fundraising season, Music for the Mind remains partnered with Family Service Kent and the KIDS Team, and planning is already underway.
"We're working on bringing a committee together. We'll work to collectively map out our year," Banks said. "We'll see what fundraisers we're going to do and set a new financial goal, all while raising funds in support of mental health in Chatham-Kent."
None of it would be possible without the support of the community, she added, thanking donors, sponsors, volunteers and the bands that donated their time for the two concert events.
"We can't do what we do without them," she said of the support. "They are all integral to the success of our fundraisers."