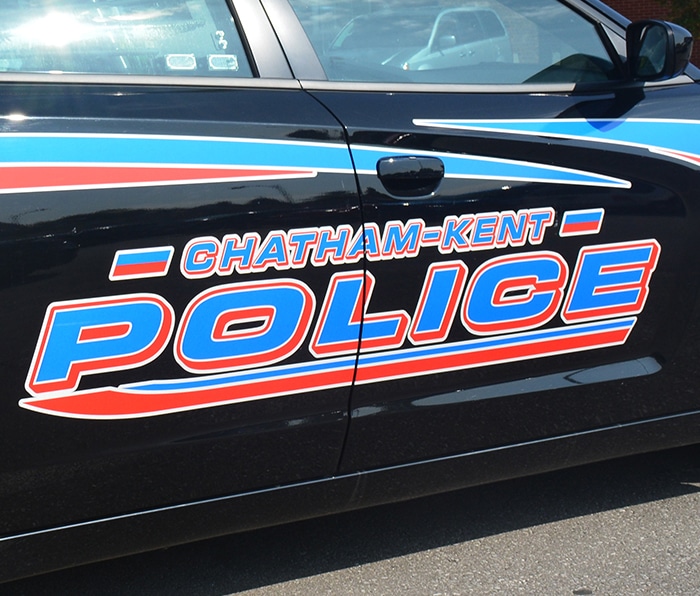 Two arrested for B&E in 'Burg
Thanks to security footage, two people face charges following an early morning break-in Tuesday in Wallaceburg.
Chatham-Kent police responded to an alarm call from a McNaughton Avenue business shortly after 5 a.m. Tuesday.
Upon arrival, the officers learned two suspects forcefully entered the business by breaking a window. Once inside, they gathered merchandise from the shelves and left. Officers viewed the video surveillance footage and recognized the two suspects from previous interactions.
At 1:55 p.m., a 60-year-old Wallaceburg woman was located on Emily Street in Wallaceburg and arrested.
At 3:17 p.m., a 53-year-old Wallaceburg man was located on Elgin Street in Wallaceburg and arrested. He was transported to police headquarters and held pending a bail hearing.
Threatening dialogue
A Chatham man faces charges after someone threatened to burn down everything in a backyard early Wednesday morning.
The victim called police shortly after midnight, advising he had been assaulted and he threatened to set fire to his backyard and burn everything.
The man was wanted on an outstanding warrant for bail violations connected to a 2021 incident where he was charged with assaulting a police officer, assault with a weapon, uttering threats and possessing weapons for a dangerous purpose.
Police and the Chatham-Kent Fire and Rescue Services arrived at the Lacroix Street address in Chatham and set up containment around the property until the man was taken safely into custody.
A 53-year-old Chatham man was charged with uttering threats and failing to comply with a release order. He was transported to police headquarters and held pending a bail hearing.