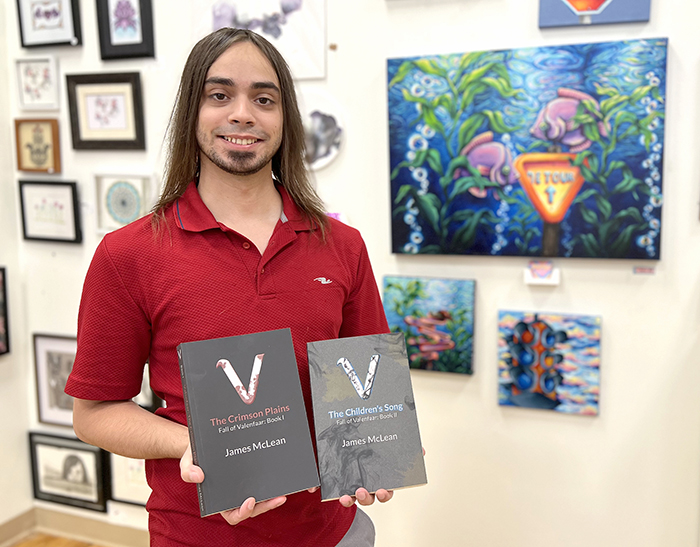 By Pam Wright
Local Journalism Initiative Reporter
Fantasy writer James McLean is the GTA's loss and Chatham-Kent's gain.
The Newmarket native and his partner pulled up stakes in the city and made the move to their new home after a random search online.
"We either wanted to go to New Brunswick or Nova Scotia or Southwestern Ontario, "McLean said, noting the deal was clinched when they found a great apartment in Chatham.
Like so many others who have ditched "The Big Smoke," the couple has no regrets.
"We absolutely love it," McLean said in a recent interview. "Chatham-Kent is so friendly and a five-minute drive is a five-minute drive.
"The city (Toronto) is so busy, so bloated and so rude," the 28 year old added, noting the pair moved to C-K last fall and are enjoying life outdoors, exploring C-K's many outdoor spaces, such as Rondeau Provincial Park.
McLean said he now has a better quality of life and more time to write.
The writer, who has a job where he works remotely, has already self-published two novels and is hard at work on the third. Part of a series, his books tell the multi-layered tale of the Fall of Valenfaar, a young country that is dealing with a host of unique problems. The first book called The Crimson Plains, focuses on an invasion, while the second, The Children's Song, is a story wrapped around a religious secret.
His third called the Dance of Ashes, will meld the characters of his two previous books together. It will be published next spring.
According to McLean, he's delved into different genres, "writing seriously" for about eight years. He's self-taught, noting his inspiration came from a high school English teacher named Robert Ballantyne.
"I had Mr. Ballantyne for more than one year and he encouraged me to write short stories," McLean said. "I got lucky there."
Art and Heirloom Shoppe board member Chris Ford said McLean's books are a good read.
"I love his books," Ford said. "I enjoy reading fantasy, and James' writing is really good. He's a very good story teller."
A meet-the-author book signing will take place at the Art and Heirloom Shoppe Aug. 26 from 12:30 p.m. to 3:30 p.m. Both of McLean's books are currently available for sale at the downtown Chatham store.