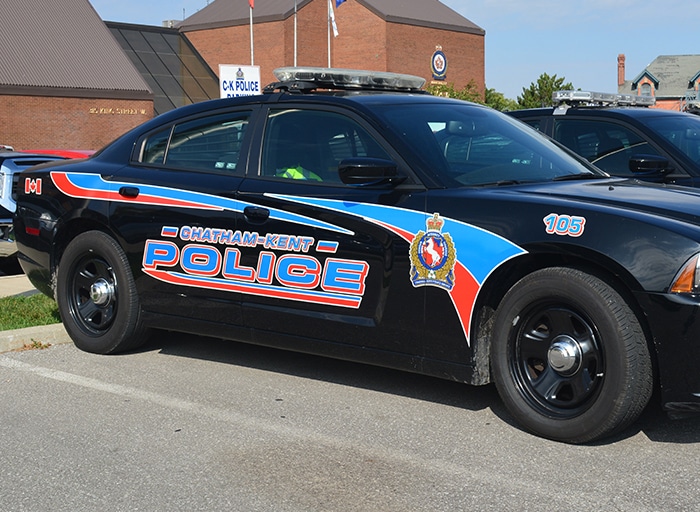 Drugs, drugs, drugs 
A traffic stop Tuesday night in Wallaceburg led to charges against three people.
At 8:42 p.m., Chatham-Kent police officers on patrol conducted the traffic stop on Lisgar Street in Wallaceburg. The vehicle contained three individuals: a woman driver and two male passengers.
Following an investigation, it was confirmed that the woman had an outstanding warrant from the London Police Service, while one of the men had an outstanding warrant from the Toronto Police Service.
Subsequently, during a search incident to arrest, officers discovered what police say were significant quantities of suspected cocaine, fentanyl, Canadian currency, and a firearm.
A 26-year-old woman from Chatham, a 25-year-old man from Chatham-Kent, and a 22-year-old man from Scarborough were all charged with possessing a controlled substance for trafficking and unauthorized firearm possession. All three individuals were transported to police headquarters and held pending a bail hearing.
Plate problem leads to numerous charges
Big Brother helped lead police to arrest a local man and charge him for drug possession recently.
On Aug. 16, Chatham-Kent OPP report an officer pulled over a vehicle following a driver's licence status notification from the Automated Licence Plate Recognition (ALPR) system.
This occurred in the westbound lanes of Highway 401 just after 2:30 a.m.
The investigating officer determined that the driver's licence was suspended, and the driver was taken into custody without incident.
Additionally, police discovered the driver was in possession of a quantity of illicit drugs, suspected to be cocaine, fentanyl, and methamphetamine.
As a result of the investigation, a 22-year-old Chatham resident was charged with possession cocaine, possession of an opioid, possession of methamphetamine, driving while under suspension and using a license plate not authorized for the vehicle.
Instagram threats lead to charges
A Blenheim teen has to answer to charges for a disturbing social media message.
At 9:18 p.m. Tuesday evening, police responded to a harassment investigation on Richmond Street in Chatham.
The investigation revealed that a distressing message had been posted on Instagram, inciting severe harassment with the intention of driving the victim to commit suicide, police say.
A 17-year-old Blenheim youth was arrested and charged with uttering threats.
Punch leads to charges
A Tilbury man faces charges after someone cold-cocked a man Tuesday evening in the West Kent community.
At 8:35 p.m., police responded to a disturbance at a business on Mill Street in Tilbury.
An officer arrived and learned one man had punched another man and left before police arrived.
The officer located the man at his residence and arrested him.
A 45-year-old Tilbury man was charged with assault.
Skipped court date
Missing a court date earlier this week has led to additional charges against a Tilbury man.
Chatham-Kent police say a man was arrested in early July and charged with indecent acts and criminal harassment.
Following his arrest, he was released with a future court date of Aug. 14. When the man failed to attend court, a warrant was issued for his arrest.
On Tuesday morning, police located and arrested the man on Young Street in Tilbury.
A 26-year-old Tilbury man faces several charges, including indecent act, failing to attend court and three counts of criminal harassment.
He was transported to police headquarters and held pending a bail hearing.