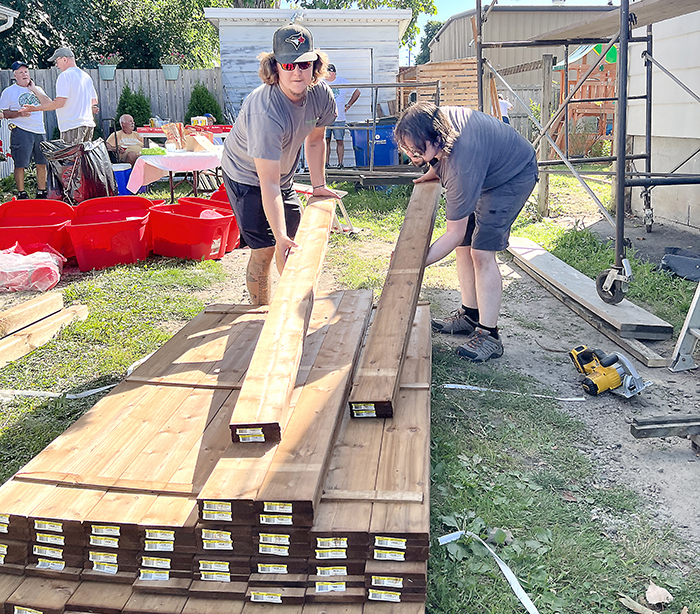 After a three-year pause, volunteers from two local churches returned to helping others through their Backyard Mission program.
The good folks at First Presbyterian and First Christian Reformed churches in Chatham got back to the task of improving the yard of a Chatham homeowner.
In past years, people submitted nominations and organizers sifted through them all to find the homeowner in most need.
This time around, it was much easier. Mike Maroney, minister at First Presbyterian and one of the chief Backyard Mission organizers, said they simply picked the last person that, well, they chose, France Laprise.
"We were slated to do it in 2020 when everything went haywire," he said of the COVID-19 pandemic. "We were just not able to do it when things were shut down and we weren't able to get people together."
Fast forward three years, and the volunteers were ready to help once again.
In the past, they have scraped and painted houses, built wheelchair ramps and fences, done general carpentry repairs, replaced eavestroughs, landscaped, and done general clean up around a house.
This is done free of charge as an outreach of love and compassion to the homeowner.
"We just do it to bless someone else. It's just such a wonderful feeling," Maroney said.
He added people get nominated for the Backyard Mission for a host of reasons.
"It could be health issues, finances, changes in life that are hard to navigate," he said. "As long as the person owns the home and can use the help, we do it free of charge."
Maroney added there is no preaching taking place to the homeowner.
"This is not an evangelistic tool," he said.
It's just people helping people.
Backyard Mission evolved out of a previous mission effort that sent local youth south of the border to help on projects there. However, treatment by U.S. Customs officials at the border had organizers reassessing the endeavour. They opted to instead stay "in their own backyard" – Chatham – to help locally.
That began in 2009.